The tight end market will be interesting this year. There's a clear-cut top three guys, but after that, there aren't a ton of great options. Read on to see how I rank that top three and who else you should target.
Featured image credit: Oregon Live
Travis Kelce, Kansas City Chiefs
Who else could I pick? Kelce has been historically great over the past few seasons. I'd have no problem taking him in the first round.
Darren Waller, Las Vegas Raiders
Waller is an ascending star in the league. He's the Raiders' best offensive weapon, so he should have a steady workload in 2021. He has every tool at his disposal.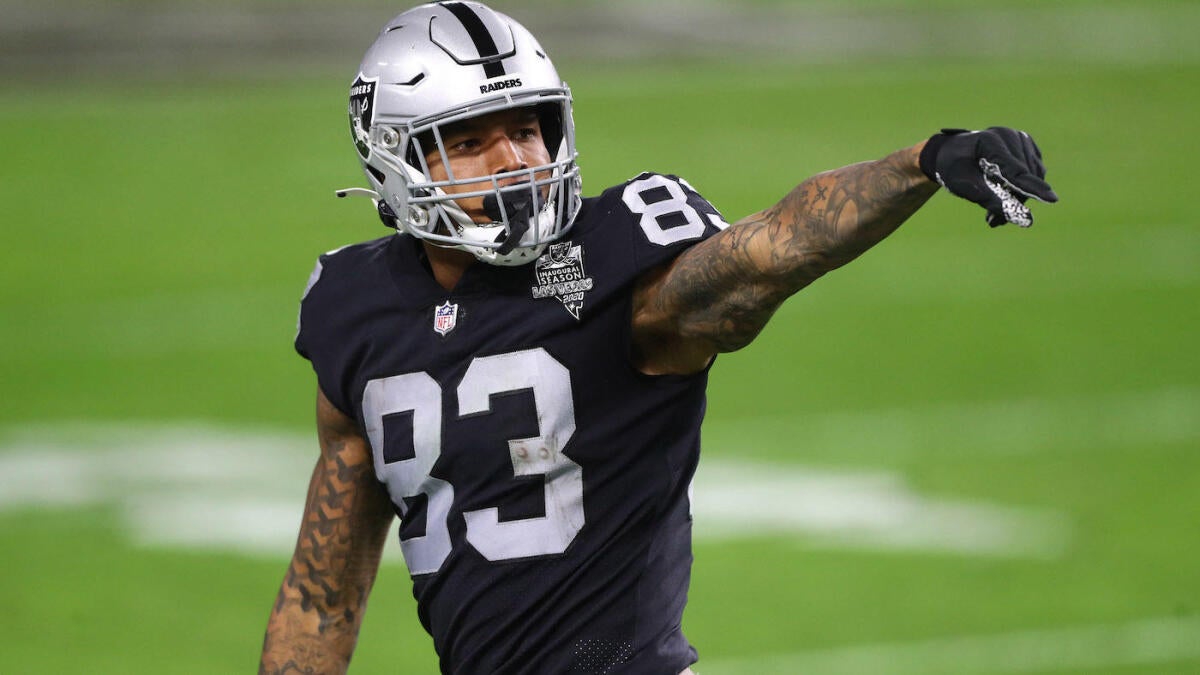 George Kittle, San Francisco 49ers
Durability has been a concern, but when Kittle is on the field, he's a problem. He's special after the catch. He can turn a five yard play into a touchdown with his sheer strength. If he stays healthy, he could be TE1.
T.J. Hockenson, Detroit Lions
I expect a big leap from Hockenson this season. Like Darren Waller, he's his teams' best receiver. Jared Goff will have to throw to someone, and a lot of times that someone will be Hockenson.
Kyle Pitts, Atlanta Falcons
When a tight end goes in the top five of the NFL Draft, you better keep an eye on him from day one. Pitts has size (he's 6'6"), speed, and every athletic tool in the book. In Atlanta's pass-heavy offense, Pitts will have plenty of opportunities to succeed. 
Logan Thomas, Washington Football Team
Would you believe me if I said Logan Thomas was 2020's TE3? Well, he was. He hit his stride from Weeks 12-17, averaging 16.3 points per game during that stretch. With an improved offense around him, I expect even better this season.
Mark Andrews, Baltimore Ravens
Andrews has been a top-tier fantasy tight end in the past, but I'm not betting he will be this year. The Ravens added receivers Rashod Bateman and Sammy Watkins to their offense, which could mean less targets for Andrews. Plus, the Ravens' offense isn't receiver-friendly anyway.
Robert Tonyan Jr., Green Bay Packers
Tonyan tied Logan Thomas for the TE3 spot last season. However, it took him 11 TDs to do so. To be a bonafide TE1, he'll have to take his game to a new level in 2021.
Dallas Goedert, Philadelphia Eagles
While Zach Ertz remains in Philly, Goedert is somewhat of a mystery. He's a good player, but he may not get the reps or have the offensive stability to succeed.
Noah Fant, Denver Broncos
Fant has plenty of physical tools at his disposal, but the Broncos offense is loaded with young, talented options. Courtland Sutton will return from injury and Jerry Jeudy should improve as well. That doesn't leave a ton of room for Fant.
Tyler Higbee, Los Angeles Rams
Higbee is a big sleeper. Gerald Everett left the Rams in free agency, leaving the tight end room to Higbee. Also, the Rams added a better passer in Matt Stafford. If you feel unsure about your starting tight end, snag Higbee late in your draft.
Hunter Henry, New England Patriots
Many people are fading Henry, but I think he'll have a big role with the Pats. I expect Bill Belichick to use Henry and fellow tight end Jonnu Smith in the same sets. Henry is New England's most talented pass-catcher, so I expect a solid season from him.