We're onto the running backs, and it's a pretty decent group this year. However, there aren't a ton of trustworthy guys in the middle and back of the pack, so if you can grab solid two RBs early, do it. These rankings are based on full PPR scoring, which means each player receives one point for each reception they haul in. Enjoy!!
Featured Image Credit: NFL Spin Zone
Christian McCaffrey, Carolina Panthers
ESPN ADP: 1.3
After an injury-riddled 2020, CMC returns to the top of fantasy football. In McCaffrey's three games last year, he averaged 30.1 points per game. None of the injuries he dealt with last season seem to be long-lasting, so he should be back at full strength for 2021.
Dalvin Cook, Minnesota Vikings
ESPN ADP: 2.6
Cook exploded for 1,918 total yards and 17 total TDs last season. I don't expect to see any real dip from those numbers this year. The Vikings improved their offensive line by drafting left tackle Christian Darrisaw, and their much-improved defense will enable their offense to play ball-control football more. Barring any injuries, it's safe to say Cook will have another dynamic season.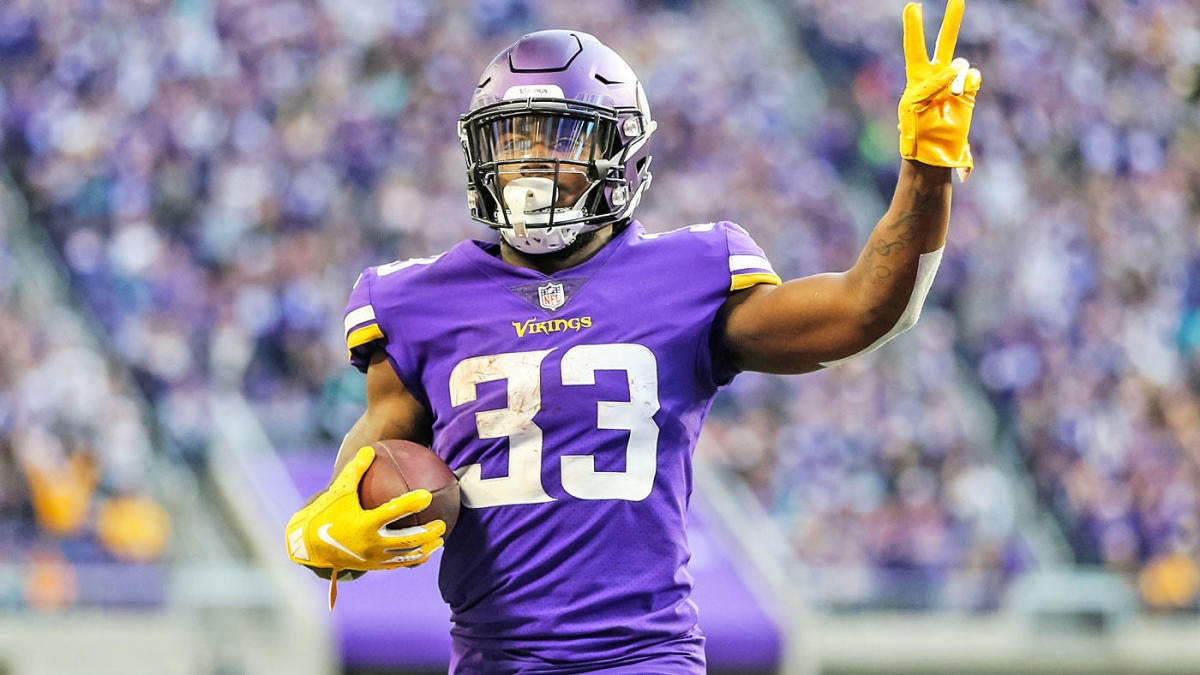 Saquon Barkley, New York Giants
ESPN ADP: 5.1
The past two seasons have been rough for Saquon, as he battled injuries in 2019 and tore his ACL in 2020. However, don't forget the raw talent this guy possesses. He can impact each game on the ground and through the air. My only concern is that he may have a slow start to the season after rehabbing, but that could lead to him having greater success down the stretch when he starts to get more touches.
Derrick Henry, Tennessee Titans
ESPN ADP: 4.1
The issue with Henry in terms of fantasy will also be his receiving workload, but he's the best pure runner in the league. With the inception of 17-game seasons, don't be surprised if he eclipses 2,000 rushing yards for the second straight season. The fact that he doesn't get many receptions will hinder him in games where the opposing defense can stop the run, though. However, he has the potential to break off 40 fantasy points just about every week.
Alvin Kamara, New Orleans Saints
ESPN ADP: 4.5
Kamara blazed his way to being RB1 in 2020 off of some monster receiving performances. However, with Drew Brees's retirement, it is unclear who will man the helm of this Saints offense. Jameis Winston is likely to win the job, which would be much better for Kamara than if Taysom Hill were to win. However, Winston still isn't known for targeting his running backs, so Kamara still should see a dip in his production.
Ezekiel Elliott, Dallas Cowboys
ESPN ADP: 8.3
Last year was rough for Zeke, but it's understandable as to why that was the case. Zeke's QB and two starting tackles played a combined seven games last year. With Dak Prescott under center, Elliott is a top-flight fantasy running back. In Prescott's five games last season, Zeke averaged about 22.3 points per game. 
Austin Ekeler, Los Angeles Chargers
ESPN ADP: 14.7
In PPR leagues, Ekeler deserves your respect. If he plays a full season, he should get 100+ targets and on top of that, he's L.A.'s top runner. With Hunter Henry gone, he should be no less than Justin Herbert's third option in the passing game.
Aaron Jones, Green Bay Packers
ESPN ADP: 14.8
Aaron Rodgers' current absence may scare people away from taking Packers' players, but I think Jones will be effective this year regardless. Green Bay just gave him a four-year extension, so we know Jones is in their plans. Plus, Jamaal Williams left in free agency, leaving the majority of the passing reps to Jones.
Jonathan Taylor, Indianapolis Colts
ESPN ADP: 9.5
Taylor has a ton of fantasy potential, but I have him lower than most sites because I find it hard to predict what his workload will look like. Nyheim Hines seems to be Indy's leading receiving back, and Marlon Mack returns from injury this season. Taylor should be the main runner, but I think those two other backs could be a detriment to Taylor's consistency.
Nick Chubb, Cleveland Browns
ESPN ADP: 13.2
In terms of pure running, Chubb is an absolute stud. He casually broke off 5.6 yards per carry last year and averaged a touchdown per game. However, the Browns don't often use him in the passing game, instead using Kareem Hunt in that facet of their offense. If Cleveland's coaches decide to give Chubb more targets, he'll be a top-5 fantasy RB, but that's far from a safe bet.
Cam Akers, Los Angeles Rams
ESPN ADP: 19.4
There's lots of positive buzz surrounding Cam Akers right now. His coach, Sean McVay, called him an "every-down back". He broke out towards the end of the 2020 campaign with big, playoff performances against the Seahawks and the Packers. He only racked up 11 regular season receptions last year, though, so McVay and his staff will have to give him more opportunities in that area.
Antonio Gibson, Washington Football Team
ESPN ADP: 31.1
Gibson enters his sophomore season with bright prospects. He has an improved offense around him, as Washington added Ryan Fitzpatrick and Curtis Samuel in free agency. Plus, he has a ton to build off of from last year, including his whopping 11 rushing touchdowns. HC Ron Rivera coached the versatile Christian McCaffrey in the past, and I'd bet he wants to develop Gibson in the same way.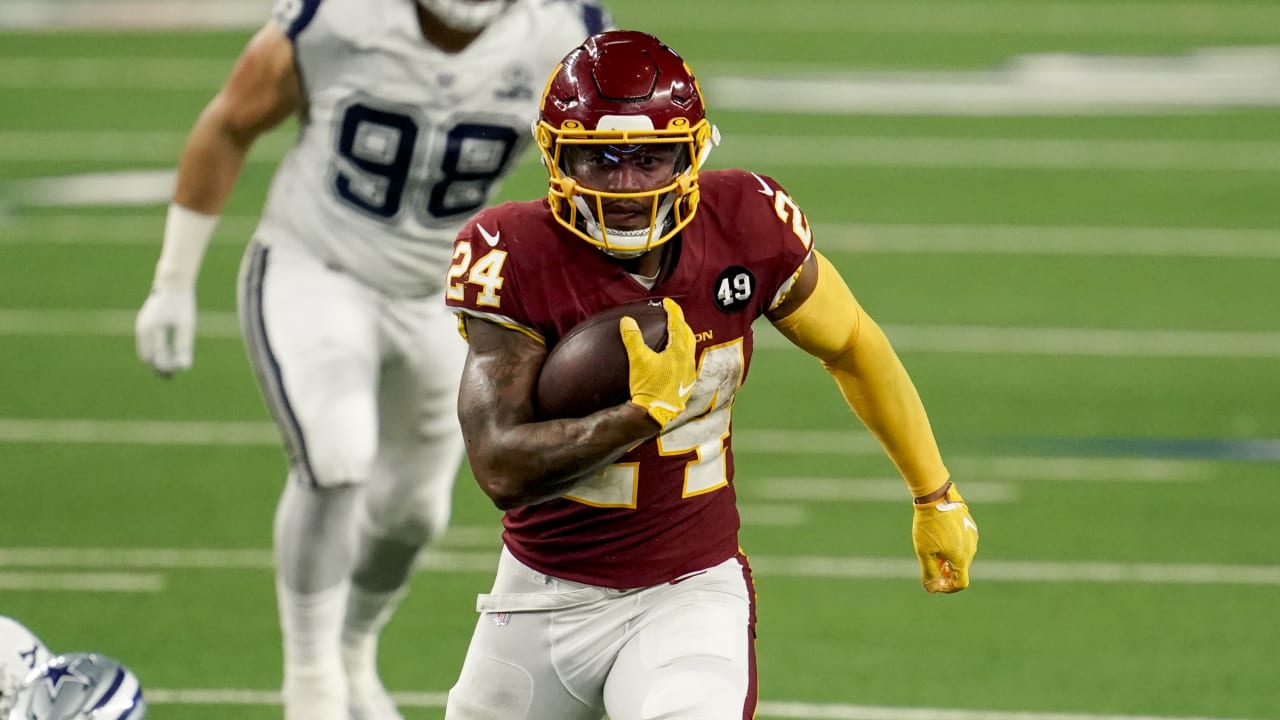 Najee Harris, Pittsburgh Steelers
ESPN ADP: 21.5
Harris is an interesting case. There's a high chance HC Mike Tomlin uses him like he used Le'Veon Bell. That means Harris will get a ton of touches. After all, Harris's patient, lateral style brings back memories of Bell. However, Bell worked behind a much better offensive line that allowed him to flourish. Harris does not have that benefit, as the Steelers lost four starters from that unit this offseason. So, will Harris be able to produce at an elite level behind their below average O-Line? I'm not so sure he can.
Clyde Edwards-Helaire, Kansas City Chiefs
ESPN ADP: 34.5
I find it funny how low people are ranking CEH this season. After Damien Williams opted out in 2020, Clyde's stock soared. He was drafted in the first round in virtually every league by August. CEH was decent in 2020, but injuries and an inconsistent workload hindered his production. This year, his situation is even better than last year. The Chiefs vastly improved their O-Line and lost Sammy Watkins as well. I expect Edwards-Helaire to be much more involved in the Chiefs' offense this season.
D'Andre Swift, Detroit Lions
ESPN ADP: 30.0
Swift is a boom-or-bust player in my eyes. With Jamaal Williams right next to him on the depth chart, it's hard to gauge how much he'll detract from Swift's touches. It does seem like Swift will be a big part of the Lions' passing game, though. I expect around 60 catches from him this season.
Miles Sanders, Philadelphia Eagles
ESPN ADP: 31.1
Sanders is a very solid RB2. He's versatile and he has the ability to gain big chunks of yards every attempt, as he had three carries of 70+ yards last season. If Jalen Hurts provides the Eagles with stability at the QB position, expect Sanders to improve.
Joe Mixon, Cincinnati Bengals
ESPN ADP: 23.7
I'm much lower on Mixon than most analysts, and I'm perfectly O.K. with that. I've been a Mixon owner two years and a row, and I've regretted it two years in a row. The Bengals' offensive line has been to blame for Mixon's disappointments, and it's not like Cincy made any drastic changes to that unit. So, if he wasn't able to overcome those issues in the past, I don't see a reason to believe he will now.
J.K. Dobbins, Baltimore Ravens
ESPN ADP: 40.1
Dobbins didn't get the ball a lot last year, but when he did, he was incredibly effective. He averaged 6.0 yards per carry in a timeshare with Gus Edwards. Therein lies the problem; that he's in a timeshare with Gus Edwards. Dobbins's talent is evident, but he'll need to get the ball more to become a top-flight fantasy option.
Chris Carson, Seattle Seahawks
ESPN ADP: 44.0
In 2020, the Seahawks offense went from ground-and-pound to a primarily aerial attack. With this transition, Carson's role changed as well. He took on an increased role in the passing game, but saw his rushing numbers decline. His season was truncated due to injury, but this trend was still noticeable. It'll be interesting to see what his stats will look like after a full campaign.
David Montgomery, Chicago Bears
ESPN ADP: 47.6
Montgomery was an absolute stud down the stretch of the 2020 season. However, that was a dream run of matchups, as he went up against some of the worst run defenses in the league. Additionally, Tarik Cohen, the Bears' main receiving back, is returning. So, don't expect Montgomery's 2021 production to reflect his monster end to 2020.
Josh Jacobs, Las Vegas Raiders
Myles Gaskin, Miami Dolphins
Chase Edmonds, Arizona Cardinals
Mike Davis, Atlanta Falcons
Kareem Hunt, Cleveland Browns
Raheem Mostert, San Francisco 49ers
Travis Etienne, Jacksonville Jaguars
James Robinson, Jacksonville Jaguars
Javonte Williams, Denver Broncos
Melvin Gordon III, Denver Broncos
David Johnson, Houston Texans
Damien Harris, New England Patriots
Michael Carter Jr., New York Jets
Leonard Fournette, Tampa Bay Buccaneers
Ronald Jones II, Tampa Bay Buccaneers
James Conner, Arizona Cardinals
Kenyan Drake, Las Vegas Raiders
Jamaal Williams, Detroit Lions
Zack Moss, Buffalo Bills
A.J. Dillon, Green Bay Packers