Last year, a transcendent talent at defensive end named Chase Young was drafted. This year, there's no one who comes close to Young's level of stardom, but it's a pretty solid group nonetheless. On the contrary, the interior D-Line class is on the weaker side, with only two of those guys making my top ten. Here are my rankings.
1. Jaelan Phillips, EDGE, Miami
Height: 6'5"
Weight: 260 lbs
Phillips was a five-star recruit at UCLA before injuries halted his career. He revived his football journey at Miami and played like a bonafide stud in 2020. He generated 42 pressures and a pass-rush win rate of 20.3% (both per PFF). He's easily the most advanced edge defender in the class, as he has a filthy euro-step move that works hand-in-hand with his speed rushes. On top of that, he's a freak athlete with great size. His long list of injuries from his UCLA days are slightly worrisome, but that wouldn't stop me from taking him.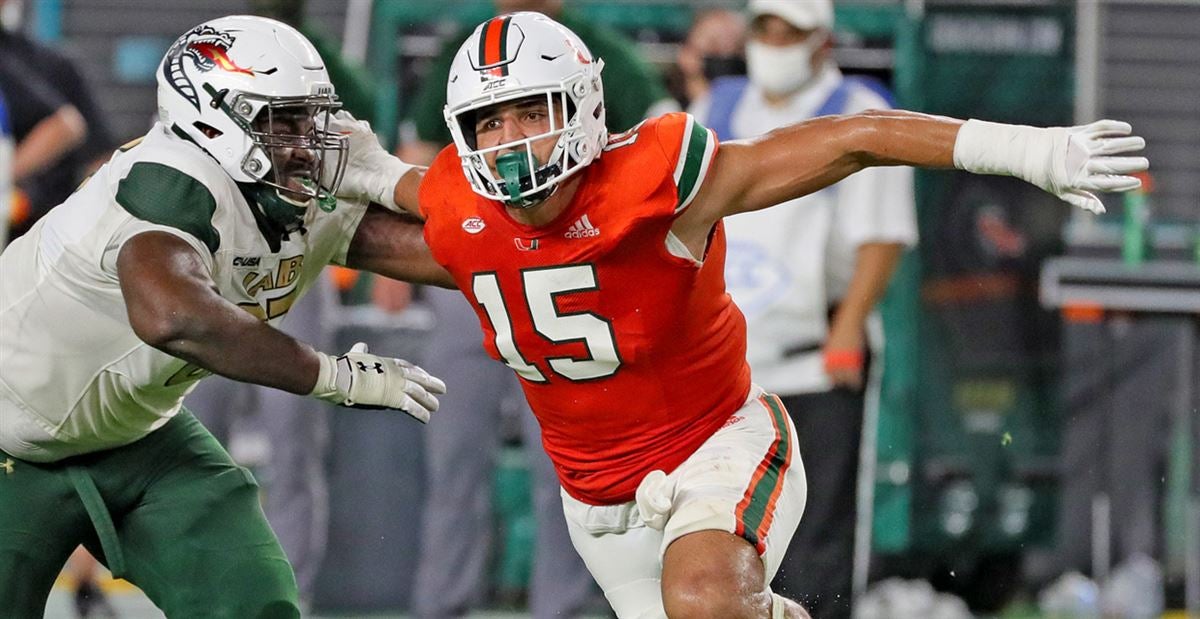 2. Kwity Paye, EDGE, Michigan
Height: 6'2"
Weight: 261 lbs
If you're looking for a real freak of nature, look no further. At 261 lbs, Paye runs a 4.52 40, a sub-6.5 three-cone, and benches 225 lbs for 36 reps. He has athletic tools that 99.9% of humans couldn't even dream of. He's also shown that he has a high motor and he's made consistent improvement each year at Michigan. He lacks polish in his attack, but I believe that'll be remedied with NFL coaching.
3. Azeez Ojulari, EDGE, Georgia
Height: 6'2"
Weight: 249 lbs
Ojulari is the best speed rusher in this class. He has a great first step, and his cornering ability is outstanding. He's not just a pass-rush specialist, he's also solid in run defense and in coverage. So, I think he could step into a 3-4 defense as an OLB on day one because he's such a well-rounded player. However, he hasn't added a power element to his game, which will hinder how far he can go as a pass rusher if he fails to change this. If he fills out and adds some strength, he'll be very good in the NFL.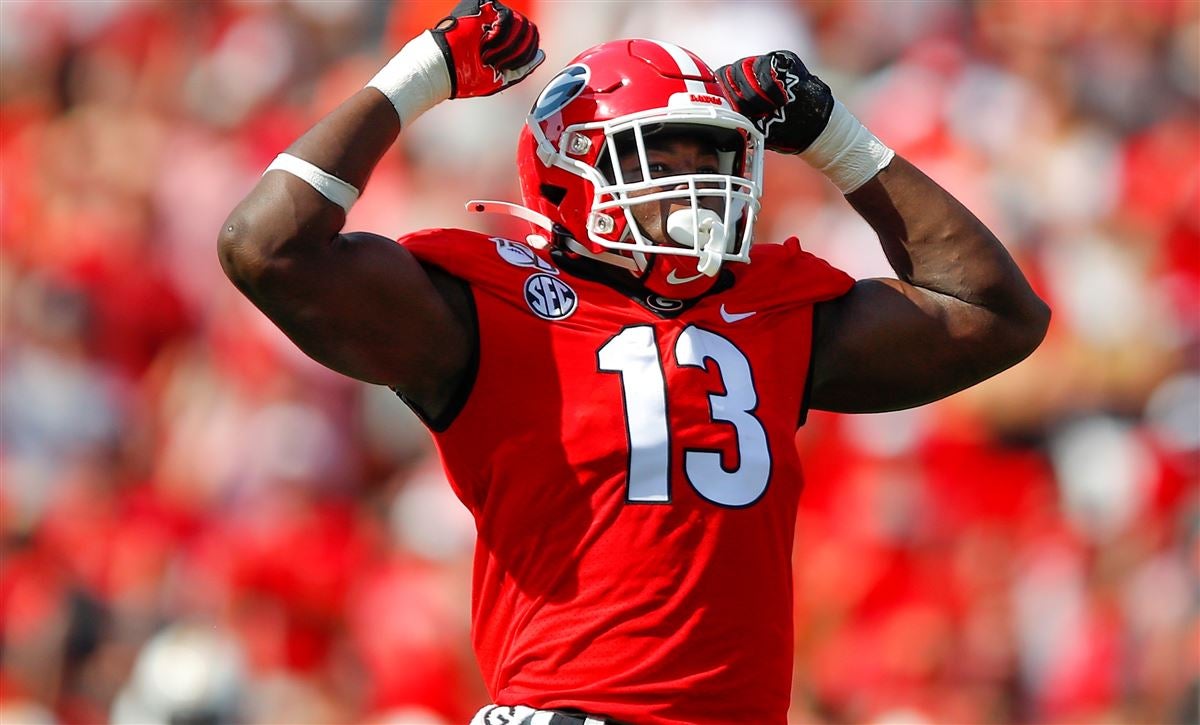 4. Gregory Rousseau, EDGE, Miami
Height: 6'7"
Weight: 266 lbs
Rousseau has an incredible frame. With his ~35" arms and 11" hands, he can simply reach around blockers and pull runners to the ground. With his height, he also has plenty of room to fill out, too. He lacks explosiveness, but overall, his size should make up for that. My real concern with him is where he fits. He had a ton of sacks and pressures in 2019, but a lot of them came from the interior. He didn't have a refined enough game to consistently beat offensive tackles. So, he can either develop his game on the outside, or fill out and transition to more of an interior role. Either way, he has a ton of potential.
5. Joseph Ossai, EDGE, Texas
Height: 6'4"
Weight: 256 lbs
In my humble opinion, Ossai is heavily slept on by NFL Draft media. Simply put, the man makes plays. He was an off ball linebacker in 2019, and he transitioned to being a full-time edge defender in 2020. As a result, he has an unusually high motor for an edge rusher. There are some games where he lives in the backfield, such as his 2019 game against Utah. He also tested well at the Texas Pro Day (4.65 40, 42" vertical, 132" broad). The reason I have him this low is that he's a bit underdeveloped as a pass rusher. After all, he's only had one season in that role.
6. Jayson Oweh, EDGE, Penn State
Height: 6'5"
Weight: 257 lbs
Oweh is the definition of freak athlete. He's right on the same tier as Paye in that area. He ran a 4.39 40, which is absolutely incredible for an edge rusher. He tested out of this world in pretty much every other category, too. However, he has yet to show for it on the field. He just hasn't been able to translate his abilities to on-field production yet. His athleticism allows him to be proficient against the run, but his play recognition sometimes hindered him there. Overall, he's got insane athleticism, but he's quite the project. 
7. Christian Barmore, IDL, Alabama
Height: 6'4"
Weight: 310 lbs
Barmore is a well-rounded player with solid size. For a 310 lb man, he's incredibly mobile. He can get to the passer (19.5% pass-rush win rate, per PFF) and stop the run (13.3% run-stop rate, per PFF). He showed out in the College Football Playoff for 'Bama. Consistency was generally an issue for him, but his high-end was very good.
8. Joe Tryon, EDGE, Washington
Height: 6'5"
Weight: 259 lbs
Tryon is a powerful rusher. He may have the best bull rush in the class. However, there isn't a lot to his game beyond that. He's an especially underwhelming run defender in terms of recognition. He plays strong and with exceptional effort, but he has to develop the other parts of his game.
9. Ronnie Perkins, EDGE, Oklahoma
Height: 6'2"
Weight: 253 lbs
Perkins isn't an elite athlete, but he's a nuanced defender who is solid as a rusher and against the run. He has a substantial arsenal of moves and a lot of experience at Oklahoma. Overall, he's a seasoned player who should make an impact at the next level, but he doesn't have a super high ceiling.
10. Levi Onwuzurike, IDL, Washington
Height: 6'3"
Weight: 290 lbs
Onwuzurike is a proficient pass rusher. He has a great first step and a plethora of moves to thwart opposing interior O-Linemen. He's a bit undersized for an interior D-Lineman, but he still has solid power. However, his size does limit him in run defense. He's decent in that area, but he'll never be a classic run-stuffing defensive tackle. A team who needs to generate more pressure on opposing QBs will take him on Day 2.
11. Carlos Basham Jr. EDGE, Wake Forest
Height: 6'3"
Weight: 274 lbs
12. Daviyon Nixon, IDL, Iowa
Height: 6'3"
Weight: 313 lbs
13. Quincy Roche, EDGE, Miami
Height: 6'3"
Weight: 243 lbs
14. Jay Tufele, IDL, USC
Height: 6'2"
Weight: 305 lbs
15. Tommy Togiai, IDL, Ohio State
Height: 6'2"
Weight: 296 lbs