If you thought 2020's class of pass-catchers was elite, check out this year's group. Four receivers (WR or TE) could go in the top 10, and plenty of others will fill out the rest of the first round. Without further adieu, here's how I rank this loaded class.
1. Kyle Pitts, TE, Florida
Height: 6'6"
Weight: 245 lbs
I've watched some very good tight end prospects such as T.J. Hockenson and Noah Fant, but neither come close to Pitts. He's an athletic freak who could be a top prospect at wide receiver, too. He has great hands and unmatched contested catch ability. He's a matchup nightmare because he can outrun linebackers and dunk on defensive backs. And he's only 20 years-old. Watch him become the next Darren Waller in the league.
2. Ja'Marr Chase, WR, LSU
Height: 6'0"
Weight: 201 lbs
Chase is another athletic freak who is a top-tier prospect. He dominated the best college competition as a 19 year-old in 2019. He won with physicality, as no one could stay with him at the catch point. He's not the most advanced route-runner, but he makes it up with his athleticism. A valid concern would be that he doesn't have the height to win contested catches in the NFL, but he beat high-level corners in college, so I don't think that should be an issue.
3. Jaylen Waddle, WR, Alabama
Height: 5'10"
Weight: 182 lbs
Everyone knows Waddle is the speedster of this class, so I don't have to stress that too much. He's not just a speedster, though. He's a sharp route-runner, he has good hands, and he can even make some tough, contested catches at 5'10". He undoubtedly would've outproduced DeVonta Smith if he didn't injure his ankle. His ankle is really the only concern with him, so if it doesn't nag him in the NFL, I think he's a surefire stud.
4. DeVonta Smith, WR, Alabama
Height: 6'1"
Weight: 175 lbs
Once Jaylen Waddle got hurt, Smith broke out and shouldered the load for 'Bama very well. His production (4.39 yards per route run per PFF) landed him the Heisman trophy. He played significant snaps in the slot and on the outside. He has great hands and YAC ability. The obvious worry for him in the NFL is his weight. Alabama listed him at 175 lbs, but he's reportedly even lighter. Against physical, professional corners, his frame could be a major detriment. For now, we must assume it won't be his downfall because it sure wasn't in college.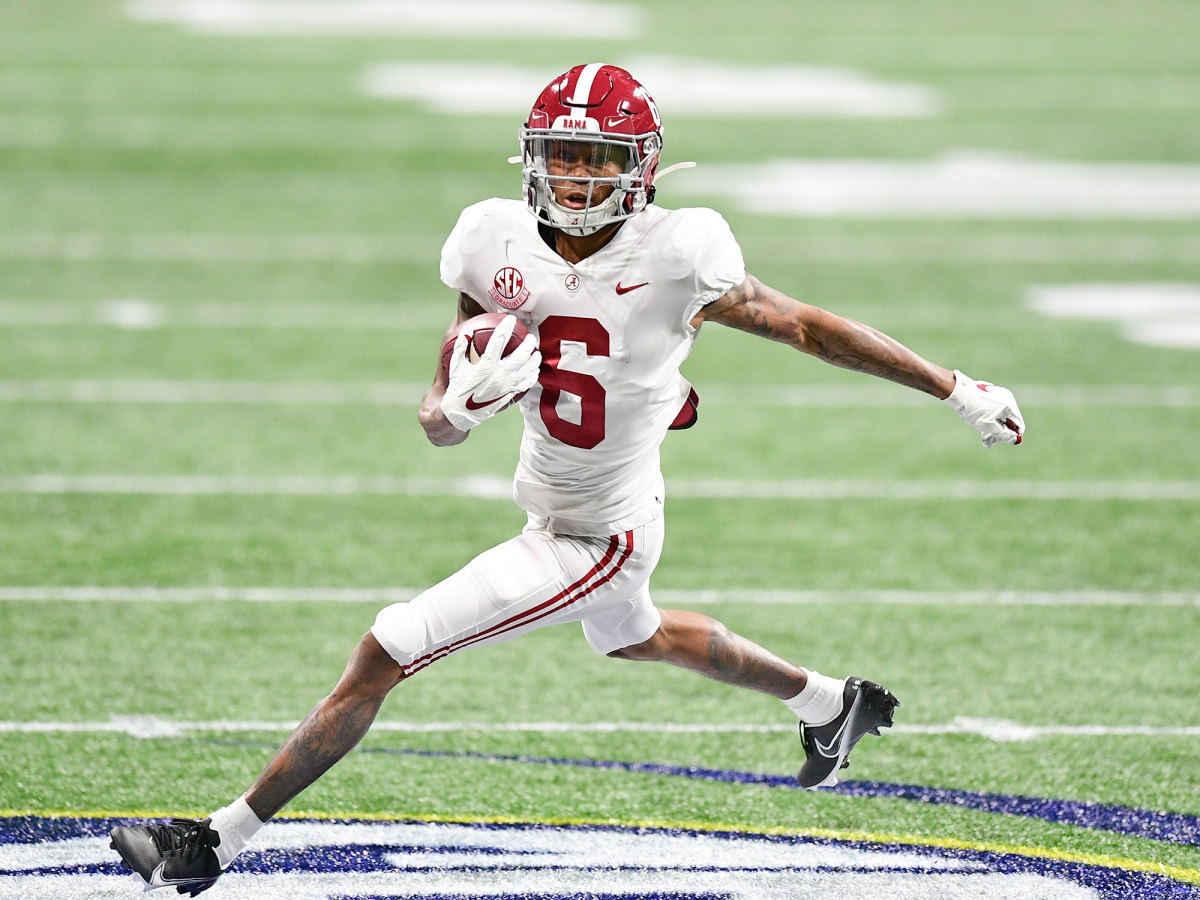 5. Elijah Moore, WR, Ole Miss
Height: 5'9"
Weight: 178 lbs
There are many pure slot receivers in this class, and Moore is the best one in my eyes. He has all the traits great slot guys have in the NFL. He's fast, he has great hands, and he gets open. He's effective in the short, middle, and deep parts of the field. His size is a slight downside, but it didn't deter him from making tough catches in college.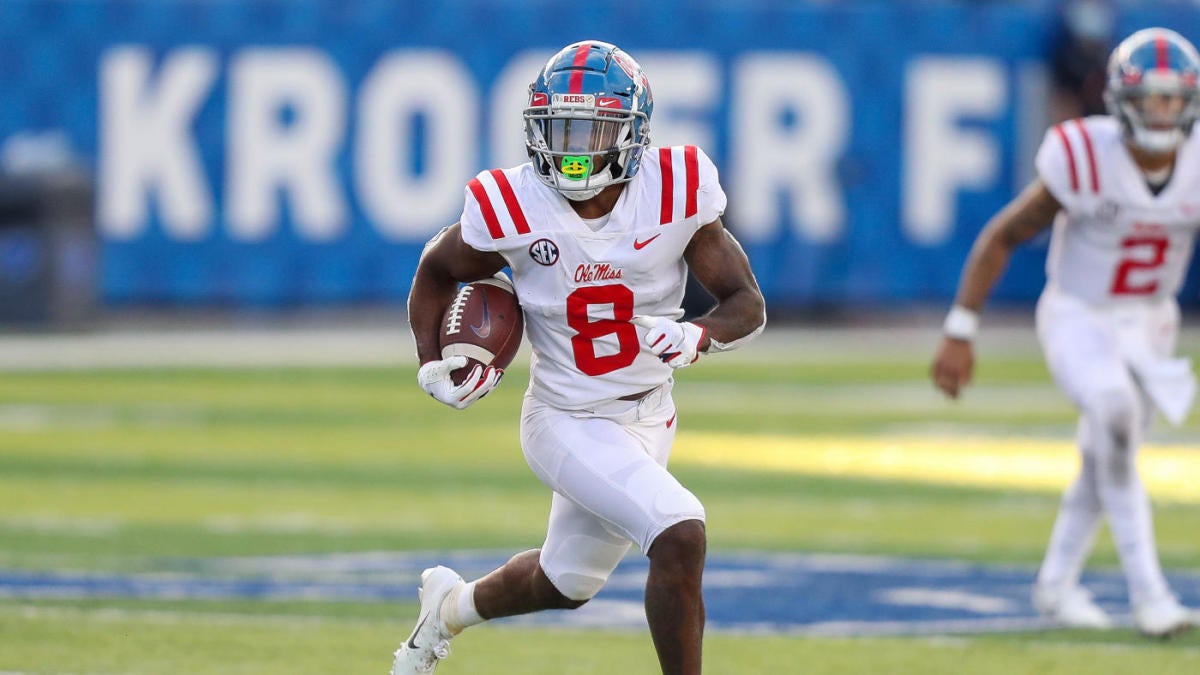 6. Kadarius Toney, WR, Florida
Height: 6'0"
Weight: 193 lbs
Toney is a wizard after the catch. At Florida, he dodged, weaved, and bursted his way to a breakout season. He's versatile, as he was used in the slot and in the backfield. He has underrated hands, too. He uses many unconventional tactics to get open (such as his signature use of a spin move into a slant route) that may not fly in the NFL, but he certainly has the tools to be a proficient route-runner. 
7. Rashod Bateman, WR, Minnesota
Height: 6'0"
Weight: 190 lbs
Bateman played the majority of 2019 on the outside and the majority of 2020 in the slot. He looked much better outside, but it's good to see he's versatile. On the outside, he could show off his contested catch ability and full range of route-running. In the NFL, I don't think he'll fit in the slot because he drops the ball too much. It shows up on tape and in the numbers (drop rate of 14.3% in 2020 per PFF). I see a lot of people who put Bateman really high in their rankings because of his releases and route-running, but none of that matters if he's inconsistent catching the ball. 
8. Terrace Marshall Jr., WR, LSU
Height: 6'3"
Weight: 205 lbs
Marshall has a ton of potential with his size and speed. He could be a legitimate deep threat in the NFL with those two tools. He's similar to Bateman in that he played in the slot in 2020, but I think he'll end up on the outside because of his contested catch ability. Teams that need a big man in the red zone should target him. However, like Bateman again, he has a high drop rate of 12.7%. He's certainly a work in progress, but he's at least worth a second-rounder.
9. Rondale Moore, WR, Purdue
Height: 5'7"
Weight: 180 lbs
Moore is the biggest boom-or-bust prospect in this group of receivers. He's an athletic specimen who is fast, bouncy, and strong, but his height could potentially hold him back. He also has the most limited route tree I've ever seen. His production at Purdue came from pretty much only screens and underneath routes. However, what he did after those catches made him stand out. 
10. Dyami Brown, WR, North Carolina
Height: 6'1"
Weight: 189 lbs
If a team needs someone to stretch the field, Brown should be their pick. He's a great deep threat who's fast and can make physical catches above his weight class. In UNC's run-heavy offense, he dominated with the space created by their star running backs. He's far from a complete receiver, but he could be a great downfield threat in the NFL.
11. Pat Freiermuth, TE, Penn State 
Height: 6'5"
Weight: 251 lbs
12. Tylan Wallace, WR, Oklahoma State
Height: 6'0"
Weight: 194 lbs
13. Amon-Ra St. Brown, WR, USC
Height: 5'11"
Weight: 197 lbs
14. Nico Collins, WR, Michigan
Height: 6'4"
Weight: 215 lbs
15. Amari Rodgers, WR, Clemson
Height: 5'10"
Weight: 212 lbs