While this class of receivers was loaded, I don't think it was anywhere near as deep as 2021's O-Line group. There may not be a ton of big boys who go on Day 1, but on Days 2 and 3, expect teams to scoop them up in bunches. Here's the group.
1. Penei Sewell, OT, Oregon
Height: 6'5"
Weight: 331 lbs
Simply put, Sewell can do some things nobody else can. He's just so athletic at 331 lbs. From powerful pancakes to diving blocks, he can do it all. A man of his size shouldn't be so mobile. Trent Williams comes to mind while watching him.
2. Rashawn Slater, OT/G, Northwestern
Height: 6'4"
Weight: 304 lbs
If Sewell is the most freakish OL in this class, Slater is the most technically sound. His feet are so quick, and he's sneakily very strong as well. He was the only man who could stop Chase Young in 2019. The issue is his size. He doesn't have the typical height or bulk of an NFL tackle, but he has a ton of snaps and success at both left tackle and right tackle. Teams may want him to slide inside at the next level. Whatever his role ends up being in the NFL, he should be a great player.
3. Alijah Vera-Tucker, G/OT, USC
Height: 6'4"
Weight: 308 lbs
Vera-Tucker is actually pretty similar to Rashawn Slater. Both have great technique, positional versatility, and shorter builds. AVT played guard in 2019 and tackle in 2020. He flourished in both positions, but he should stick at guard in the NFL.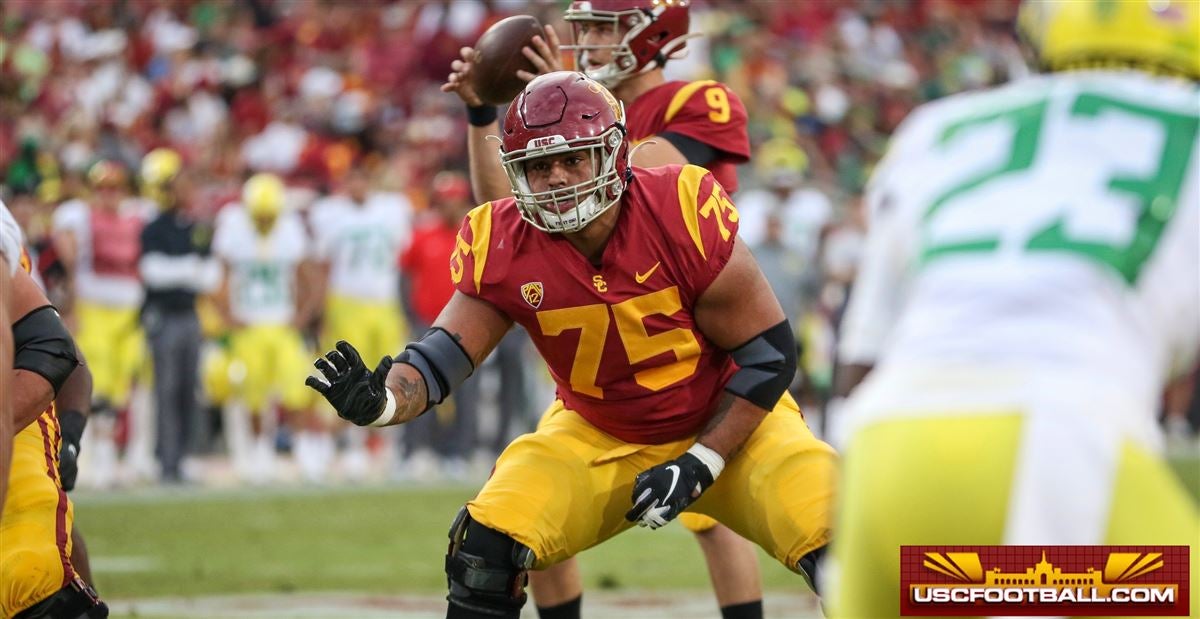 4. Christian Darrisaw, OT, Virginia Tech
Height: 6'5"
Weight: 314 lbs
Darrisaw broke out in 2020. His athleticism and power vaulted him into the first round conversation. He's a fantastic run-blocker, as PFF gave him a run-block grade of 94.5 this past season. A team who needs to create space for their RB should take him in the first.
5. Teven Jenkins, OT, Oklahoma State
Height: 6'6"
Weight: 317 lbs
Jenkins is a violent man to say the least. Like Darrisaw, he's a proficient run-blocker who uses his brute strength to decimate opposing defenses. He has some work to do in pass protection, though, as speed rushes too frequently got the best of him.
6. Samuel Cosmi, OT, Texas
Height: 6'6"
Weight: 314 lbs
Not many people on this Earth can bench 225 lbs for 36 reps and then run a 4.84 second 40-yard dash, but that's exactly what Cosmi did at Texas's Pro Day. However, his production on the field didn't match those insane numbers. He has the tools, and hopefully he learns how to use them in the league.
7. Jalen Mayfield, OT, Michigan
Height: 6'5"
Weight: 326 lbs
At 326 lbs, Mayfield moves like he's at least 30 lbs lighter, but he still has the strength that comes with his weight. This is especially apparent out in the run game. He didn't test like that at the Michigan Pro Day, but his mobility can be seen on tape. At just 20 years-old, he's a bit of a project, but he could be a dominant force in the NFL.
8. Liam Eichenberg, OT, Notre Dame
Height: 6'6"
Weight: 306 lbs
Eichenberg offers one of the highest floors in this class. He's been a rock-solid left tackle for the Irish for the past three years. However, he doesn't possess elite athleticism or size, which greatly lowers his ceiling. He's your classic plug-and-play tackle who should be available on Day Two of the Draft.
9. Landon Dickerson, C, Alabama
Height: 6'6"
Weight: 325 lbs
Dickerson isn't a typical center for many reasons. For one, he's huge, and second, he played snaps at every position on the O-Line at 'Bama. His size translates to great power. The issue is that he tore his ACL, so that definitely gives his stock some uncertainty.
10. Creed Humphrey, C, Oklahoma
Height: 6'4"
Weight: 312 lbs
Humphrey is a quarterback's dream. He made it easy for all the talented Oklahoma QBs he played with, including Kyler Murray, Jalen Hurts, and Spencer Rattler. Three years of starting experience bolster his stock. He could start for an NFL team from day one at any interior O-Line position.
11. Alex Leatherwood, OT, Alabama
Height: 6'5"
Weight: 312 lbs
12. Dillon Radunz, OT, North Dakota State
Height: 6'5"
Weight: 304 lbs
13. Jackson Carman, OT, Clemson
Height: 6'5"
Weight: 317 lbs
14. Quinn Meinerz, C, Wisconsin – Whitewater
Height: 6'3"
Weight: 320 lbs
15. Wyatt Davis, G, Ohio State
Height: 6'4"
Weight: 315 lbs
16. Walker Little, OT, Stanford
Height: 6'7"
Weight: 313 lbs
17. Brady Christensen, OT, BYU
Height: 6'6"
Weight: 302 lbs
18. James Hudson, OT, Cincinnati
Height: 6'5"
Weight: 313 lbs
19. Aaron Banks, G, Notre Dame
Height: 6'5″
Weight: 325 lbs
20. Stone Forsythe, OT, Florida
Height: 6'8″
Weight: 307 lbs