The RB class of 2021 is unique because there are a few guys who could legitimately go first. It all depends on what style of play teams need. Etienne is the home run hitter, Williams is the violent, smash-mouth guy, and Harris is the overall workhorse. Here are my rankings of them and the rest of the bunch.
1. Travis Etienne, Clemson
Height: 5'10"
Weight: 215 lbs
Etienne is as explosive as they come in the running back department. His burst and big play ability make him the clear RB1 to me. Additionally, this past season, he became a true dual-threat running back, as he had career-highs in receptions and receiving yards in 2020. He's not patient or powerful, but an offense that needs a one-cut explosion will draft him.
2. Najee Harris, Alabama
Height: 6'2″
Weight: 230 lbs
Harris is very different from Etienne, but not far off in terms of talent. He's a big dude who runs a lot like Le'Veon Bell, with his patient, shifty style. Also like Bell, he's great catching passes out of the backfield. Once he's in the open field, he can beat defenders with his shiftiness, his power, or even his hurdling ability. The main issue with him is he lacks elite speed and burst. For his style to be successful, he'll need a solid O-Line in the NFL.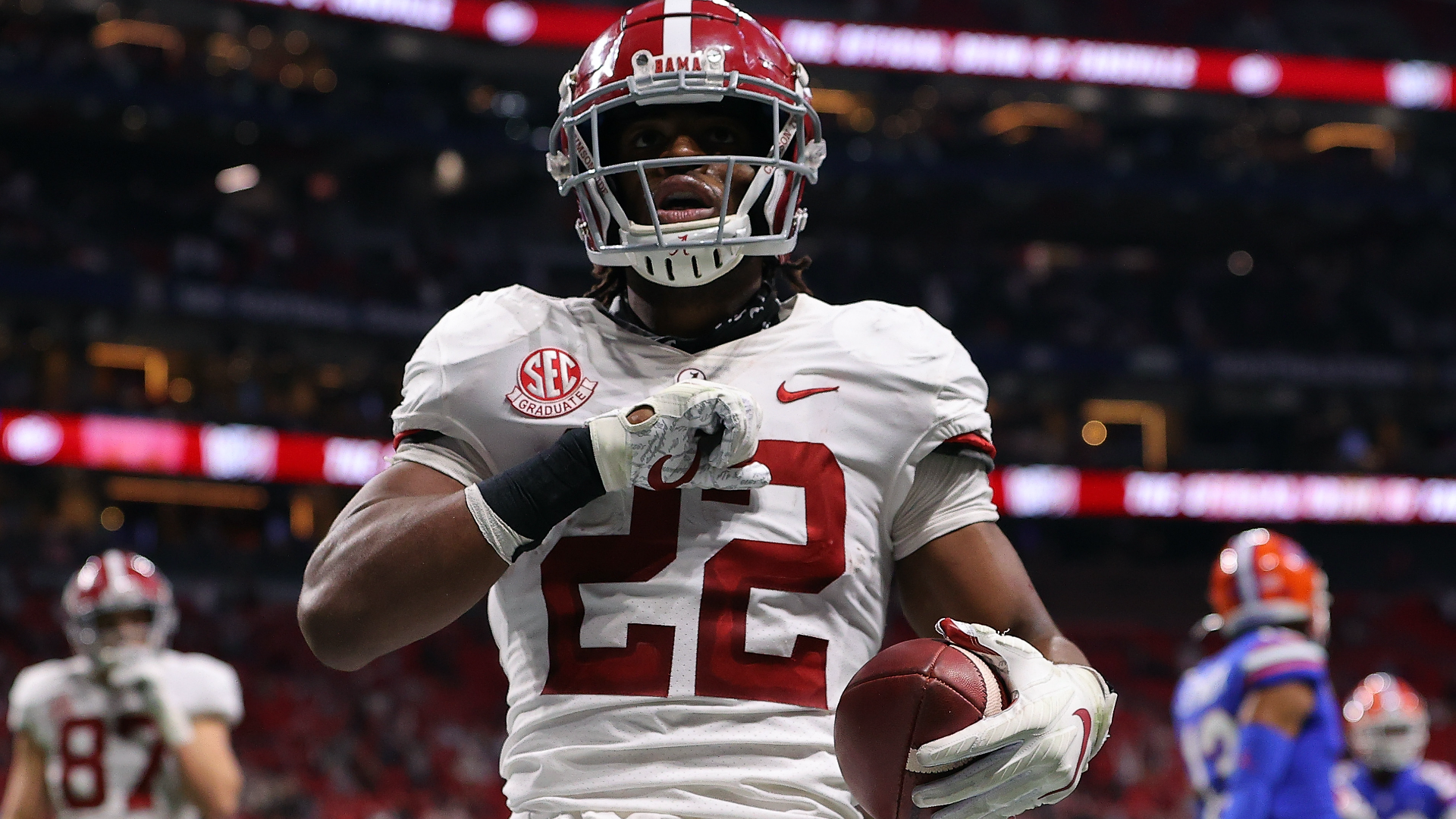 3. Javonte Williams, North Carolina
Height: 5'10"
Weight: 212 lbs
Here's the wild card of this class. Williams has the potential to be better than Etienne and Harris, but his floor is beneath those two. He'll be just 21 years-old at the time of the Draft, so he's got plenty of room to grow. He's phenomenal as a pure runner with his blend of power and elusiveness. He's also very good in pass protection. However, he never had a backfield to himself in college. He shared time with Michael Carter (more on him later) at UNC. Also, Williams is unpolished as a receiver, as he dropped 3/27 catchable passes in 2020 (per PFF). 
4. Kenneth Gainwell, Memphis
Height: 5'11"
Weight: 195 lbs
Gainwell is the top receiving back in this class. He could probably go to the NFL as a slot receiver. He'll be a nightmare for NFL linebackers. He's a shifty runner in the open field, as that is mostly shown in his YAC ability. He doesn't have great size, but if he's used right, that won't matter much. He's not as dynamic as the top backs, but an offensive coordinator will take him and use him to create favorable matchups.
5. Michael Carter, North Carolina
Height: 5'8"
Weight: 201 lbs
Although he's somewhat undersized, Carter runs with ferocity and skill. Once he hits the open field, he has the speed to rip off big chunks of yardage. Like his college counterpart (Javonte Williams), he has never shouldered an entire load in the run game, and I wouldn't expect that to change in the NFL. His size is also concerning, but it shouldn't matter if he's used as more of a "change of pace" RB.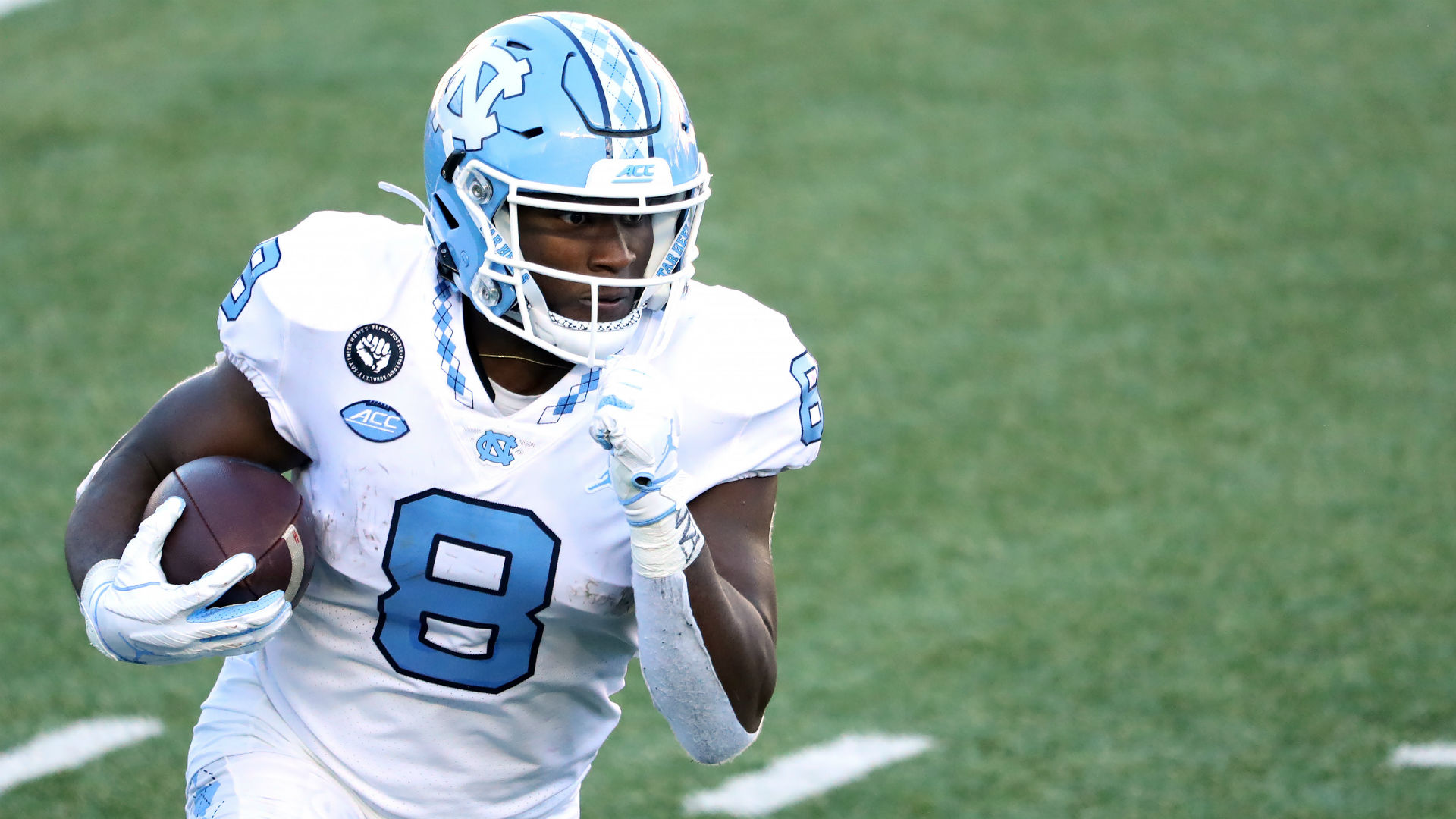 6. Demetric Felton, UCLA
Height: 5'9"
Weight: 189 lbs
7. Khalil Herbert, VIrginia Tech
Height: 5'9"
Weight: 210 lbs
8. Trey Sermon, Ohio State
Height: 6'0"
Weight: 215 lbs
9. Chuba Hubbard, Oklahoma State
Height: 6'0″
Weight: 210 lbs
10. Kylin Hill, Mississippi State
Height: 5'10"
Weight: 214 lbs