This class of quarterbacks is stacked. We could easily see four signal-callers go in the top four selections. Those top four QBs are all fantastic, and you could realistically stack them in any order. Read on to see how I rank them.
1. Trevor Lawrence, Clemson
Height: 6'6"
Weight: 213 lbs
Lawrence was anointed the 2021 #1 overall pick the moment he stepped onto the field at Clemson, and rightfully so. He has the prototypical size of a franchise QB. His arm strength is off the charts, as any throw is doable for him. He's also more mobile than you would expect. He can make plays outside the pocket and scramble as well. Clemson made the CFP every season with him, so he's definitely played against top competition and faced huge moments.
However, he is not perfect. In 2020, we really did not get to see him cook, as Clemson's college-style, screen-heavy offense limited the amount of times he threw downfield. Luckily, if he ends up with the Jaguars, Urban Meyer will run his offense similarly. Second, Lawrence would sometimes put too much heat on his throws and miss high. Nevertheless, this is an indication that he has an incredibly strong arm, he just has to completely learn how to use it.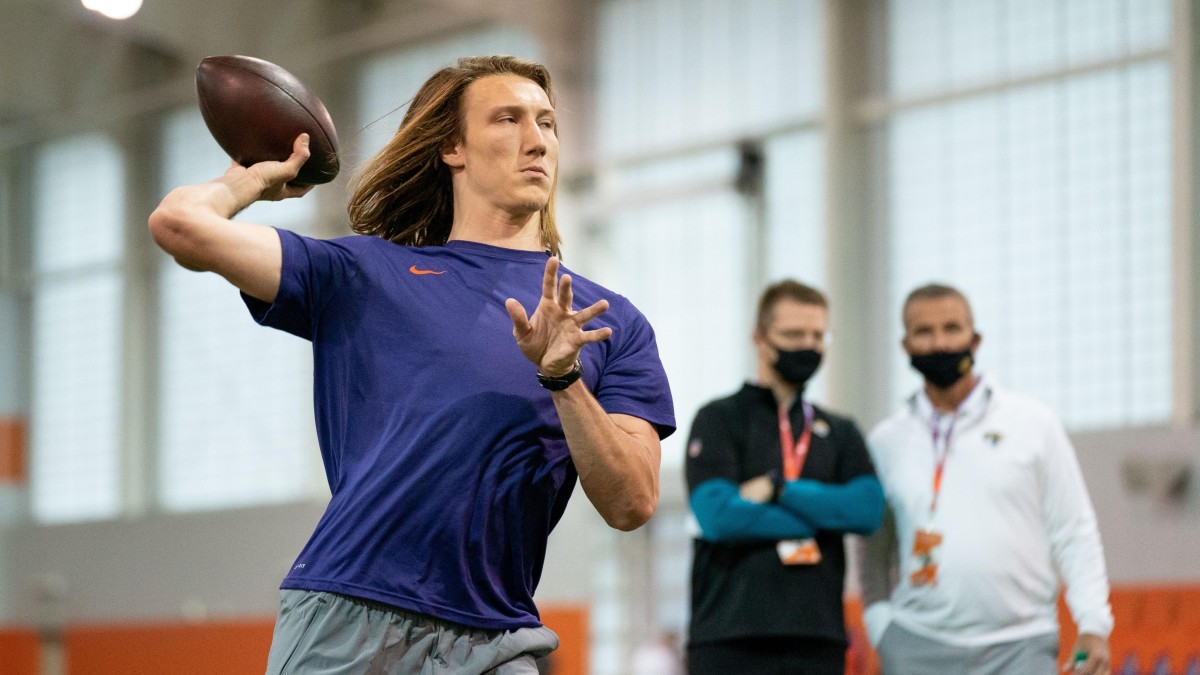 2. Zach Wilson, BYU
Height: 6'2"
Weight: 214 lbs
Wilson was the biggest breakout in college football this past season. He boasts a quick release and fantastic accuracy. Outside the pocket, he works his real magic. He throws absolute dimes on the run and can change his arm angle to make the pass. Like Lawrence, he can be a factor on the ground as well. Most importantly, he's a quick decision-maker with a ton of poise.
Although he was dominant this season, it was not against great competition. Also, he played behind a great offensive line that made it easy for him to get through his reads and make good decisions. 
3. Trey Lance, North Dakota State University
Height: 6'4"
Weight: 224 lbs
After a stellar 2019 season, Lance only played in NDSU's one-game showcase in 2020. During his 17-game college career, he threw just one interception, flashed a strong arm, and ran right over his opponents. His floor is higher than people think, as his fluid, quick motion and poise in the pocket will translate to the league. Most recently, he showcased his accuracy and throw power at the NDSU Pro Day. With his size, he's a dynamic runner who's really tough to take down.
Like Zach Wilson, he has not played the best competition, though. Transitioning from playing FCS teams to playing NFL teams is no small task. Additionally, he may never be a high-volume passer in the NFL. In college, he only threw 30+ passes in two games. He has arm talent, but working in a scheme where he has more opportunities to show off his mobility would benefit him.
4. Justin Fields, Ohio State 
Height: 6'3"
Weight: 227 lbs
Like Trey Lance, Fields is a superb runner and athlete in general. He can outrun guys or just flat-out power through them. He's also deadly accurate when he finds his man. According to PFF, he had an adjusted completion percentage of 80.8% in 2020, good for second in the nation. Arm strength is also far from an issue, as he can launch balls downfield with ease.
Fields has more glaring issues than any of the other top QB prospects, though. His processing speed is far from where it needs to be. His average time to throw was 3.11 seconds, which was the third-highest mark in college football (from PFF). When his first read isn't open, he too frequently pulled the ball down and ran it instead of staying poised and finding the next receiver. He had issues against pressure, as his pressure to sack conversion rate was 25.0% (per PFF). Overall, Fields has a ton of potential, and if he lands in the right situation where he can grow, he'll be a star.
5. Mac Jones, Alabama
Height: 6'3"
Weight: 217 lbs
Jones is a traditional pocket passer who possesses accuracy, poise, and good decision-making. In fact, he was the most accurate quarterback in the NCAA, with an adjusted completion percentage of 84.8% (per PFF). Pressure never bothered him in his college career. Turnovers have never been an issue either. He puts the ball where it has to be and won football games at Alabama.
It won't be as easy in the NFL, though. Jones always had top-tier weapons and protection in his tenure at 'Bama. Having two top-10 prospects (Jaylen Waddle and DeVonta Smith) at receiver definitely makes things easier for a QB. He also doesn't have the athleticism to extend plays or even scramble at all. The NFL is moving towards mobile QBs, so Jones's play style is somewhat outdated. Jones can be successful, but he'll have to be surrounded by above-average talent.
6. Kellen Mond, Texas A&M
Height: 6'3"
Weight: 211 lbs
7. Kyle Trask, Florida
Height: 6'5″
Weight: 236 lbs
8. Davis Mills, Stanford
Height: 6'3"
Weight: 217 lbs
9. Shane Buechele, SMU
Height: 6'1"
Weight: 207 lbs
10. Jamie Newman, Georgia
Height: 6'3"
Weight: 235 lbs