We're now getting into the thick of Draft Season. The Tampa Bay Buccaneers won the Super Bowl, solidifying their #32 draft slot. The rest of the NFL will turn their eyes to next season with hopes of winning a Lombardi. Their journeys will begin on March 17th, the beginning of the new league year. Those journeys will continue to draft night on April 29th. Who will your team take with their top selection? I'll give you my fourth set of predictions in this article.
Featured image credits: Giants Wire – USA Today
1. Jacksonville Jaguars – Trevor Lawrence, QB, Clemson
Lawrence is still the clear #1 prospect, but his flaws have become apparent. According to PFF, he led the nation in passing yards off screen routes with 686. Evidently, Clemson's college-style offense probably wouldn't have made it an easy transition to the NFL for Lawrence…unless. The Jaguars hired Urban Meyer to be their head coach, who is a storied college coach. Thus, Meyer and Lawrence are a match made in Heaven.
2. New York Jets – Zach Wilson, QB, BYU
Speaking of perfect scheme fits, that's exactly what Wilson could be to the Jets. They hired Robert Saleh (HC) and Mike LaFleur (OC) from the 49ers. So, the Jets will likely run an offense similar to that of Kyle Shanahan's. Wilson's poise and accuracy fit perfectly in that scheme. Saleh and the Jets organization seem to like Sam Darnold, but the opportunity to get Wilson here should be too appealing to them.
3. Miami Dolphins (from Houston Texans) – Ja'Marr Chase, WR, LSU
Chase may not be the typical type of receiver Tua Tagovailoa has thrived with, but he's easily the best outside receiver in the class. Stellar slot receivers seem to be growing on trees, as the Dolphins could snag a guy like Rondale Moore with their early second round pick. So, I think grabbing Chase makes more sense than most people think.
4. Denver Broncos (from Atlanta Falcons) – Justin Fields, QB, Ohio State
Mock Trade:
Broncos receive: 2021 #4 overall pick
Falcons receive: 2021 #9 overall pick, 2021 #40 overall pick, 2022 second round pick
In my first mock trade of 2021, Denver moves up to select Fields and finally fill their need for a franchise QB. Fields is John Elway's type of quarterback. He has size, a great arm, and he can move, too. Denver would be a perfect situation for Fields, as they have a solid O-Line and weapons that include Jerry Jeudy, Courtland Sutton, and Noah Fant.
5. Cincinnati Bengals – Penei Sewell, OT, Oregon
Sewell is far-and-away the best O-Lineman in this class. He has some concerns about polish, but his potential and athleticism put him ahead of the rest. We saw how freakish Tristan Wirfs was this past season as the most athletic OT from the 2020 draft class. Traits and athleticism are paramount qualities of a great offensive lineman. Sewell has both.
6. Philadelphia Eagles – Kyle Pitts, TE, Florida
Big changes should be coming in Philly. Carson Wentz is likely on the way out, and Zach Ertz could be cut or traded, too. Losing Ertz would leave the Eagles with a subpar group of receivers. Insert Pitts, who is listed as a tight end. However, he's really just a 6'6" receiving weapon who is a decent blocker. Having Pitts and Dallas Goedert would give the Eagles the best tight end duo in the league outside of Tampa Bay.
7. Detroit Lions – Jaylen Waddle, WR, Alabama
The Lions made a huge splash when they traded Matthew Stafford for Jared Goff and two future first-rounders. Their new GM, Brad Holmes, previously worked for the Rams, and he was partly responsible for drafting Goff. It really seems like the Lions want to give Goff a shot at being their franchise QB. However, he's going to need some weapons to have a fair chance of proving himself. With Kenny Golladay and Marvin Jones Jr. being free agents, they may have to turn to the draft for a weapon. So, the speedster Waddle goes to the Lions here.
8. Carolina Panthers – Trey Lance, QB, North Dakota State University
The Panthers seem to be prime candidates for a QB switch this offseason. They were aggressive in their pursuit of Matthew Stafford (before he ended up with the Rams), and they could very well go after Deshaun Watson. However, if all else fails, they still should have plenty of options with this pick. Lance is incredibly talented, although he'd probably need some time to sit behind Teddy Bridgewater or another veteran the Panthers would be willing to sign.
9. Atlanta Falcons (from Denver Broncos) – Patrick Surtain II, CB, Alabama
Mock Trade:
Broncos receive: 2021 #4 overall pick
Falcons receive: 2021 #9 overall pick, 2021 #40 overall pick, 2022 second round pick
The Falcons are in an interesting spot this draft. They currently have the #4 overall pick, but their only pressing needs are edge rusher and running back. Taking a RB fourth overall would be blasphemous, and this class of edge rushers doesn't have many top-tier options. So, I think trading down is a necessity for them. They do that here and fill one of their secondary needs, cornerback. Surtain is incredibly experienced for an NFL prospect. According to PFF, he's logged 1,536 coverage snaps over his career with 662 press coverage snaps during his past two seasons.
10. Dallas Cowboys – Caleb Farley, CB, Virginia Tech
If Surtain is this class's most experienced corner, Farley is the most athletic. He has size, length, and speed on his side. He allowed a completion percentage of just 36.0% in 2019 (from PFF). The Cowboys, who were thin at CB anyway, could lose Chidobe Awuzie in free agency. Farley to the 'Boys is a natural fit.
11. New York Giants – Rashawn Slater, OL, Northwestern
Some may think this pick is questionable. After all, the Giants took OT Andrew Thomas fourth overall last year. However, many think the Giants want to move on from Nate Solder, who has an unjustifiably massive contract. If the Giants decide to cut or trade him, that will leave a hole at right tackle. Slater has experience at both tackle positions, or they could slide him inside if they find another option at tackle. Protection will be especially crucial for the Giants in 2021, as Saquon Barkely comes back from an ACL injury.
12. Houston Texans (from San Francisco 49ers) – Devonta Smith, WR, Alabama
Mock Trade:
49ers receive: QB Deshaun Watson
Texans receive: Jimmy Garoppollo, Nick Bosa, 2021 #12 overall pick, 2022 first round pick
Watson to San Francisco makes sense in many ways. For Watson himself, he lands with an offensive-minded coach (Kyle Shanahan), a good offensive line (Trent Williams, Mike McGlinchey), and a deep set of weapons (George Kittle, Deebo Samuel, Brandon Aiyuk). For the Niners, they need to upgrade at QB in order to stay competitive in the NFC West, which is a stacked division. The Cards have Kyler Murray, the Seahawks have Russell Wilson, and now the Rams have Matthew Stafford. It's time for SF to step it up. For the Texans, new GM Nick Caserio reunites with a QB he knows from New England, Jimmy G. Houston also brings in significant draft capital and an elite pass rusher (Nick Bosa) to replace J.J. Watt.
As for the pick itself, Houston needs weapons badly. It would be unfair to Garoppolo to put him with the Texans without a top receiver. Smith's lack of size scares me a bit, but it never slowed him down against strong SEC opponents. The man can ball, and that's what matters.
13. Los Angeles Chargers – Christian Darrisaw, OT, Virginia Tech
Super Bowl LV made it clear that it's impossible to win big games when you have subpar offensive tackle play. The Chargers seem to have the makings of a contender, with Justin Herbert, a plethora of weapons, and a solid defense. However, their offensive line could hold them back if they let it. Luckily for them, this is a deep OT class. Darrisaw is one of the best of the bunch, as he has the prototypical size and experience of an elite tackle. He'll have to transition to a more pass-heavy offense, but I wouldn't expect that to be an issue.
14. Minnesota Vikings – Gregory Rousseau, Edge, Miami
The Vikings defense was atrocious in 2020 from top to bottom. On paper their D-Line was among the worst in the league, as DE Danielle Hunter missed time, DT Michael Pierce opted out, and DE Yannick Ngakoue was traded. Getting Hunter and Pierce back and then adding Rousseau would turn this unit around in the blink of an eye. Rousseau is raw, but learning from Hunter would benefit him greatly.
15. New England Patriots – Micah Parsons, Hybrid LB, Penn State
Due to reports of character concerns, Parsons could fall even past here on Draft Day. He has an immense amount of talent, but the off-field issues seem to have most teams worried. Bill Belichick doesn't run "most teams". Talents like Antonio Brown didn't scare him off, so I'd be confident he could get the very best out of Parsons.
16. Arizona Cardinals – Kadarius Toney, WR, Florida
With Larry Fitzgerald's future in question, it might be time to bring in Arizona's new slot receiver. Toney has vaulted into my WR4 slot with his stellar shiftiness and route-running. According to PFF, he had a drop rate of just 2.8% in 2020. For the Cards' offense to succeed under Kliff Kingsbury, they have to have a lethal passing attack. So, if Fitzgerald retires, I expect this pick to be a receiver.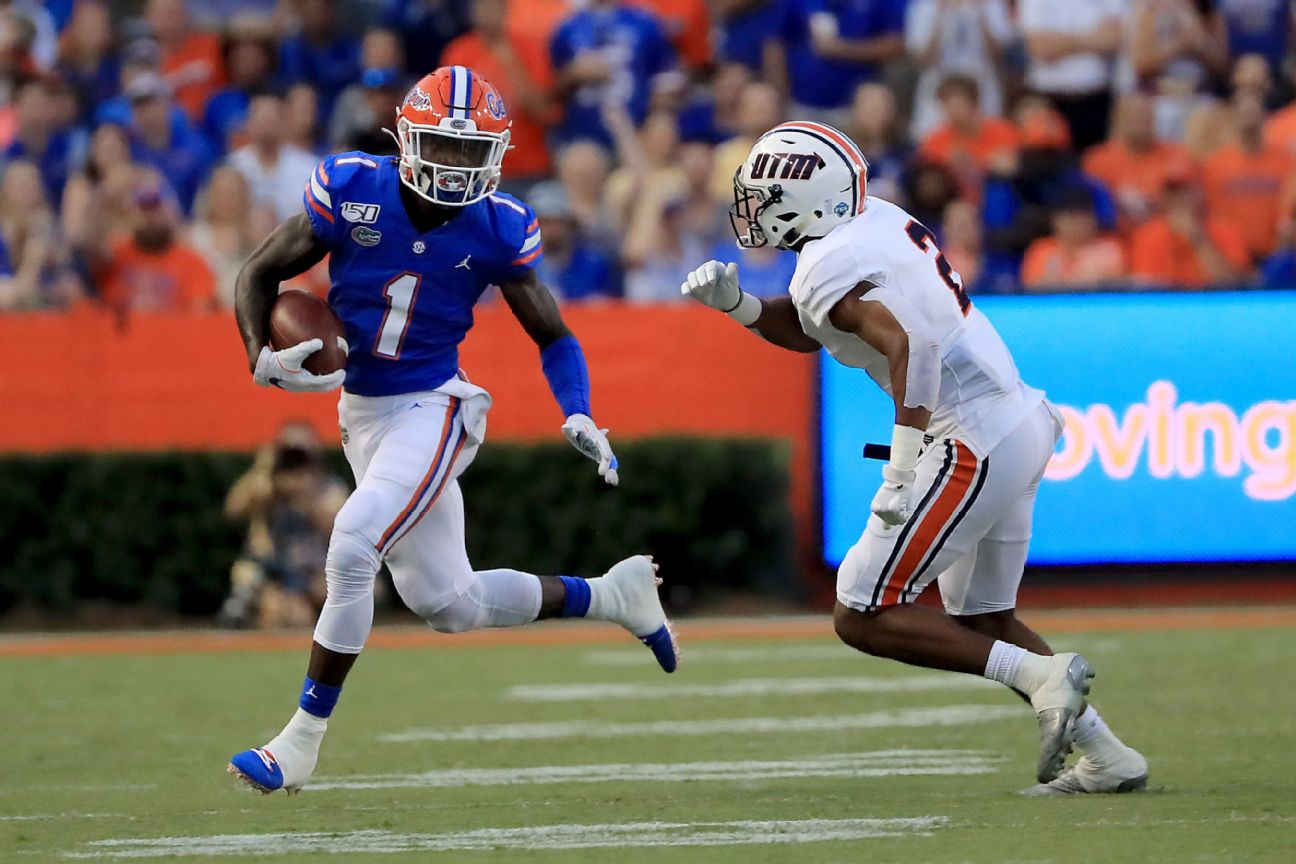 17. Las Vegas Raiders – Christian Barmore, DT, Alabama
The Raiders' defense was absolutely putrid in 2020. They were 26th in passing yards given up per game and 24th in rushing yards given up per game. Their issues start on their defensive line. To be fair, their starting defensive ends, Clelin Ferrell and Maxx Crosby, are young, but at defensive tackle they have almost no depth. Barmore, who surged late in the CFB season, would begin to remedy that. Besides, the Raiders tend to draft players from winning college programs, and Alabama is certainly one of those.
18. Miami Dolphins – Trevon Moehrig, FS, TCU
Meet this class's top safety, Trevon Moehrig. He's very good in coverage, as he had 20 PD and 6 INT over the past two seasons. A Dolphins' secondary of Moehrig, Xavien Howard, Byron Jones, and Eric Rowe would be absolutely stacked.
19. Washington Football Team – Jeremiah Owusu-Koramoah, LB/S, Notre Dame
While it's true most of Washington's issues lie on offense, this pick is just too fun to pass up. Owusu-Koramoah is as versatile as they come. For the Fighting Irish, he played significant snaps in the box, at slot corner, and on the D-Line. He'd wreak havoc in run defense behind Washington's stacked D-Line. Additionally, he'd help them in coverage. Overall, this is your classic "best available" pick as opposed to drafting for a need.
20. Chicago Bears – Mac Jones, QB, Alabama
With Carson Wentz now in Indy, the Bears still need to find a signal-caller. Jones could be really solid in Chicago. He should have much better accuracy than Mitch Trubisky at the next level.
21. Indianapolis Colts – Teven Jenkins, OT, Oklahoma State
The Colts acquired Carson Wentz today. He has the potential to revive his career, but he'll need steady protection to do so. The Colts have a great O-Line, but their left tackle spot is vacant following the retirement of Anthony Castonzo. Jenkins is a great run-blocker (which fits their scheme) who would fill that need perfectly.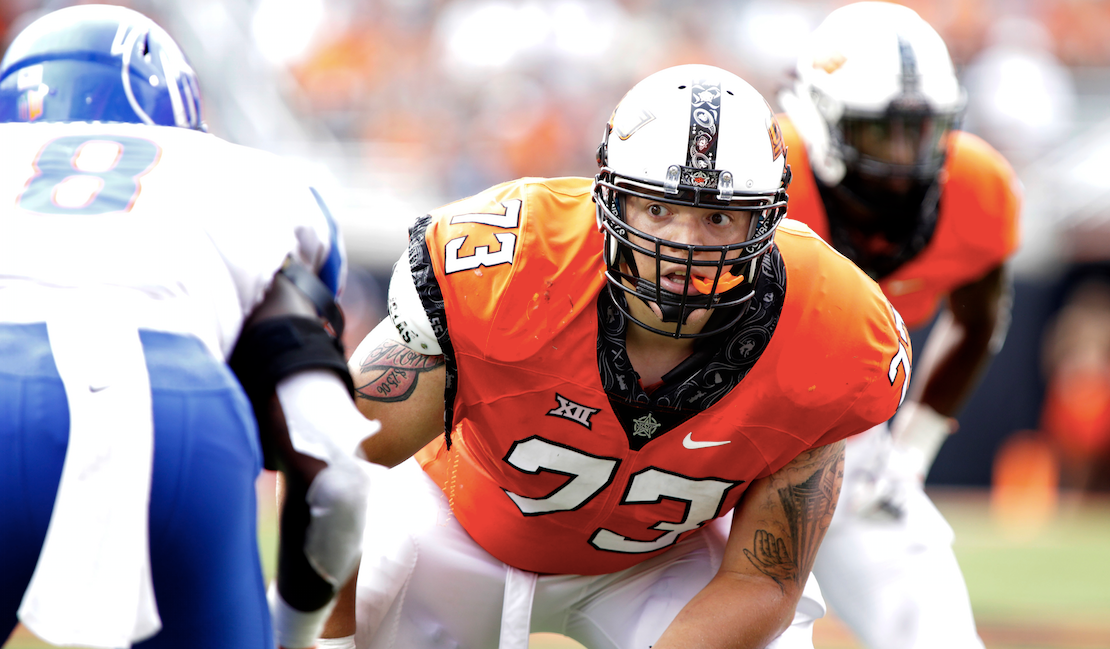 22. Tennessee Titans – Kwity Paye, Edge, Michigan
The Titans defense had a down year in 2020. Their struggles started with their pass rush, as they had just 19 sacks as a team (30th in the NFL). Paye would fit well in Tennessee's 3-4 scheme. A young trio of Paye, Harold Landry, and Jeffery Simmons would dominate for years to come. 
23. New York Jets (from Seattle Seahawks) – Jaycee Horn, CB, South Carolina
The Jets already improved their defense by hiring Robert Saleh as their HC, but they still have a long way to go in terms of personnel. Quinnen Williams and Marcus Maye are very good, but they lack talent outside of those two. They especially lack depth at cornerback. So, if Horn is on the board, he could be the pick. Due to the lack of top CBs in this class, he could be overvalued, but I know the Jets would be thrilled to add him.
24. Pittsburgh Steelers – Alijah Vera-Tucker, OL, USC
Vera-Tucker is a Swiss Army knife of an offensive lineman. He played significant snaps at both left tackle and left guard at USC. It just so happens that the Steelers' starting left tackle (Alejandro Villaneuva) and starting left guard (Matt Feiler) are free agents. So, if Pittsburgh decides to stick with only one of those two guys, Vera-Tucker could slide right into either slot.
25. Jacksonville Jaguars (from Los Angeles Rams) – Samuel Cosmi, OT, Texas
New mock, same Jags pick. Here's what I said last time:
"According to PFF, Cosmi was the third-best pass blocking OT in the NCAA in 2020 (his grade was 89.4). With Trevor Lawrence, there's no doubt the Jags will air it out on a regular basis."
26. Cleveland Browns – Jaelan Phillips, Edge, Miami
According to numerous rumors, J.J. Watt is looking at Cleveland as a possible landing spot for himself. However, this is far from a done deal, and it just shows that the Browns are looking for a defensive end to play opposite of Myles Garrett. Phillips would fit into that role perfectly. 
27. Baltimore Ravens – Azeez Ojulari, Edge, Georgia
The Ravens top edge rushers, Yannick Ngakoue and Matt Judon, are both free agents. Keeping both is borderline impossible for them, and there's definitely a chance they lose both. Ojulari is a perfect scheme fit for Baltimore. In fact, PFF's NFL comp for Ojulari is Yannick Ngakoue.
28. New Orleans Saints – Zaven Collins, LB, Tulsa
Another repeated pick from the last mock here. The Saints are in a tough spot in terms of cap space, as they're tens of millions of dollars over the limit. They're going to have a tough time keeping any of their free agents, including LB Alex Anzalone. Collins would fill his place with flying colors.
29. Green Bay Packers – Nick Bolton, LB, Missouri
Aaron Rodgers was able to disguise it this past season, but the Packers have a lot of holes on their roster. They could use a receiver, a right tackle, an interior D-Lineman, an inside linebacker, and a cornerback. They could go with any of those positions with this pick. Bolton is the best man available, and he'd instantly bolster their weak run defense.
30. Buffalo Bills – Najee Harris, RB, Alabama
The Bills' offense was stellar in 2020, but that was almost solely because of their passing attack. Imagine what their offense could be with an elite running back. After adding Stefon Diggs last offseason, it's clear Buffalo wants to give Josh Allen as many weapons as possible. A backfield of Allen (6'5", 238 lbs) and Harris (6'2", 229 lbs) would be scary.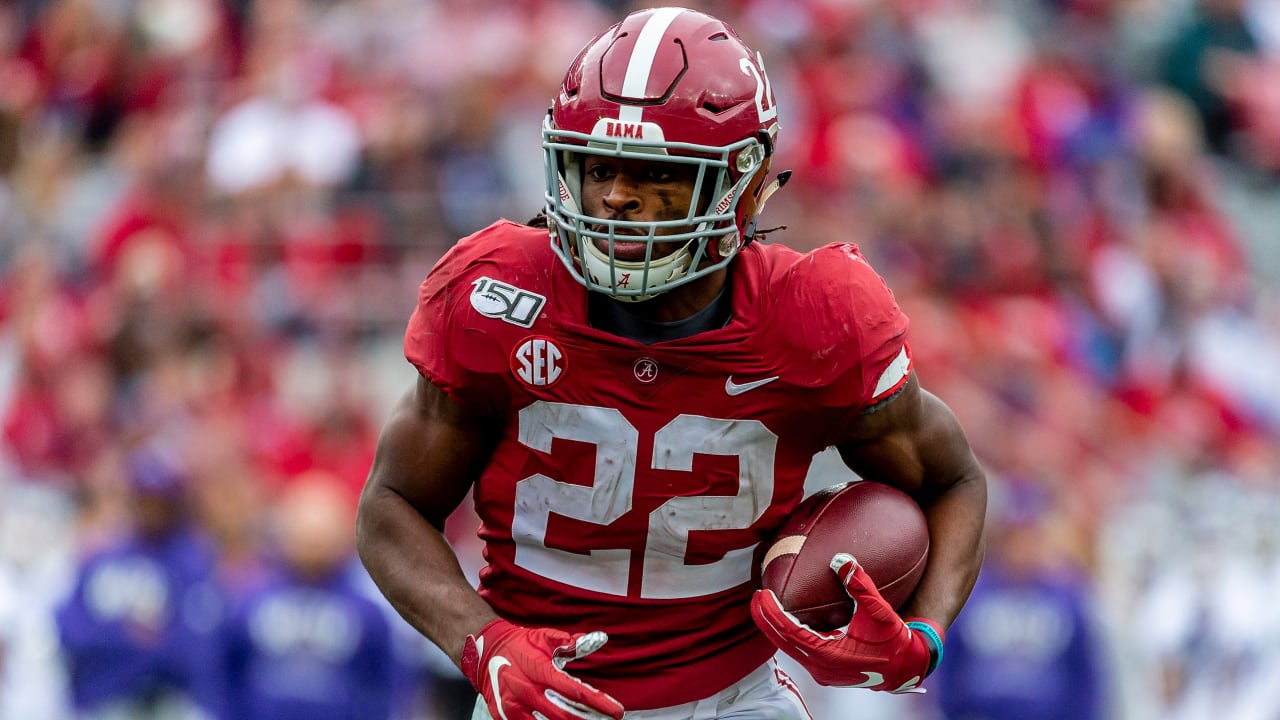 31. Kansas City Chiefs – Jalen Mayfield, OT, Michigan
This pick has to be an offensive lineman. The Chiefs don't really have a single slot on their line solidified. Mitchell Schwartz and Eric Fisher are good tackles, but both of them have injury concerns. Fisher tore his achilles in the playoffs and Schwartz missed time with a back injury for the entire latter half of last season. If either of those guys doesn't return right away for 2021, Mayfield could play tackle. If they both somehow come back, Mayfield could slide inside.
32. Tampa Bay Buccaneers – Jayson Oweh, Edge, Penn State
Tampa's front seven was dominant in their Super LV victory. However, a key piece of that unit, Shaquil Barrett, is a free agent who will land a huge contract from someone, and that someone may not be the Bucs. Oweh didn't put up big numbers in college, but he has the perfect size and athleticism to succeed in the NFL. 
Hope you enjoyed!!
-Sam