As the NFL regular season came to a close, the top-18 draft picks have been decided. The latter 14 will be decided by the NFL Playoffs. The postseason is fun, but I also enjoy looking forward to the offseason, which is exactly what I did with this mock draft. See who your team could take below.
Note: I added hyperlinks to each prospect name, taking you to their stats on Sports Reference
Featured image credit: CBS Sports
1. Jacksonville Jaguars – Trevor Lawrence, QB, Clemson
Following the CFP Semifinal, people have begun to question if Lawrence is really the top guy. I'm here to tell you that TLaw is still the man. It was an odd season for him, as he missed time with COVID and didn't have a ton of talent around him. He still averaged over 330 total yards per game and scored 32 total touchdowns. Although it's clear he isn't perfect, he's still the best QB prospect we've seen in a long time.
2. New York Jets – Justin Fields, QB, Ohio State
We move on to Lawrence's challenger, Justin Fields. After Ohio State v.s. Northwestern, many questioned his decision-making, but Fields erased all doubt with his performance against Clemson. Personally, I never moved him out of my QB2 spot, so this isn't a big shift for me. Now, the Jets need to hire a coach who can develop Fields into a star.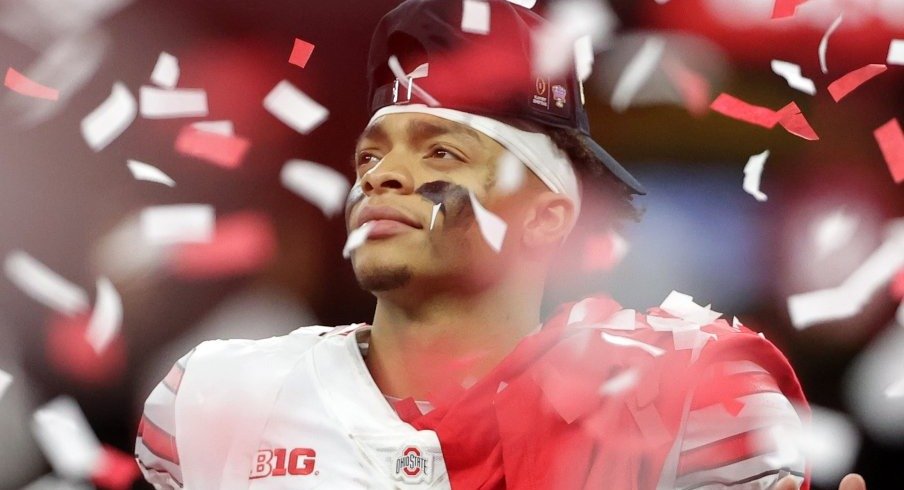 3. Miami Dolphins (from Houston Texans) – Zach Wilson, QB, BYU
This may seem surprising, but hear me out. The Dolphins drafted Tua Tagovailoa with the fifth overall draft pick in 2020. Tua had 11 passing TDs, 5 INTs, and 181.4 passing yards per game this season. To be fair, he had a subpar offense around him, but those are uninspiring numbers. On top of that, Tua often didn't close games for the Dolphins. Ryan Fitzpatrick often came in late in games, like when he beat the Raiders on "Fitzmagic". In Week 17, Fitz was inactive, leaving Tua with the burden of beating the Bills and getting the Dolphins to the playoffs. He failed miserably, as he threw three picks in the game. Zach Wilson is a better prospect than Tua was, so they should take Wilson. Quarterback is the most important position in football, so having the right guy should be Miami's priority.
4. Atlanta Falcons – Ja'Marr Chase, WR, LSU
Julio Jones could be on the way out of Atlanta this offseason. The Falcons are on the verge of a rebuild, so Julio's massive contract isn't really worth it for them. Chase is actually quite similar to Jones. He's not as tall as Julio, but his athleticism makes up for it. If the Falcons keep Jones, this won't be my pick in April, but keep this in mind.
5. Cincinnati Bengals – Penei Sewell, OT, Oregon
This would be a great situation for the Bengals. Sewell is as dominant as they come. It's not often that people make highlight reels for offensive linemen, but Sewell has many. He can be seen throwing men in those reels. This guy is truly special and the Bengals would be lucky to have him.
6. Philadelphia Eagles – Micah Parsons, LB, Penn State
After a disappointing season, the Eagles pick all the way up at #6. I don't think their offense is really the issue. They just need to get healthy, especially on the offensive line. So, let's add to their thin LB group. Parsons makes his mark rushing the passer and stuffing runs. The Eagles' will play Ezekiel Elliott, Saquon Barkley, and Antonio Gibson within their division, so having Parsons stopping the run would be ideal for Philly.
7. Detroit Lions – Trey Lance, QB, North Dakota State University
This is similar to my Ja'Marr Chase to Atlanta pick. The bottom line is Matt Stafford needs to get out of Detroit. He's too talented to waste away in Detroit, and the Lions could want to move his contract. Even if Stafford stays, this pick would make sense. Lance will need time to develop once he reaches the NFL. So, I expect the Lions to acquire a new signal-caller no matter what they do with Stafford.
8. Carolina Panthers – Patrick Surtain II, CB, Alabama
The Panthers have many needs on their roster. However, they had a good 2020 Draft that vastly improved their defense with Derrick Brown, Jeremy Chinn, Yetur Gross-Matos, and Bravvion Roy all looking like starters. Let's keep adding to that D with a shutdown corner. A CB duo of Surtain and Donte Jackson would be nasty.
9. Denver Broncos – Caleb Farley, CB, Virginia Tech
This is an interesting time for the Broncos. It was recently announced that John Elway is taking an elevated role with the team, leaving the GM spot open. Will the new GM keep Drew Lock? Will he move on? We don't know, but all the top QBs are off the board so far, and I'm not doing trades yet. Nevertheless, Farley is a superb selection here. He could be the boundary corner that Denver needs.
10. Dallas Cowboys – Gregory Rousseau, Edge, Miami
The Cowboys defense was awful this season. They may target one of the top corners, but the real way to improve a defense is by improving the pass rush. Outside of Demarcus Lawrence, Dallas lacks in that area. Pairing Rousseau with Lawrence would instantly improve the 'Boys.
11. New York Giants – Devonta Smith, WR, Alabama
Smith won the Heisman trophy this season. Despite his skinny frame, he's dominated college football. It's safe to say his size isn't much of a concern now. The Giants need playmaking badly, so if Smith falls to them, this should be the pick.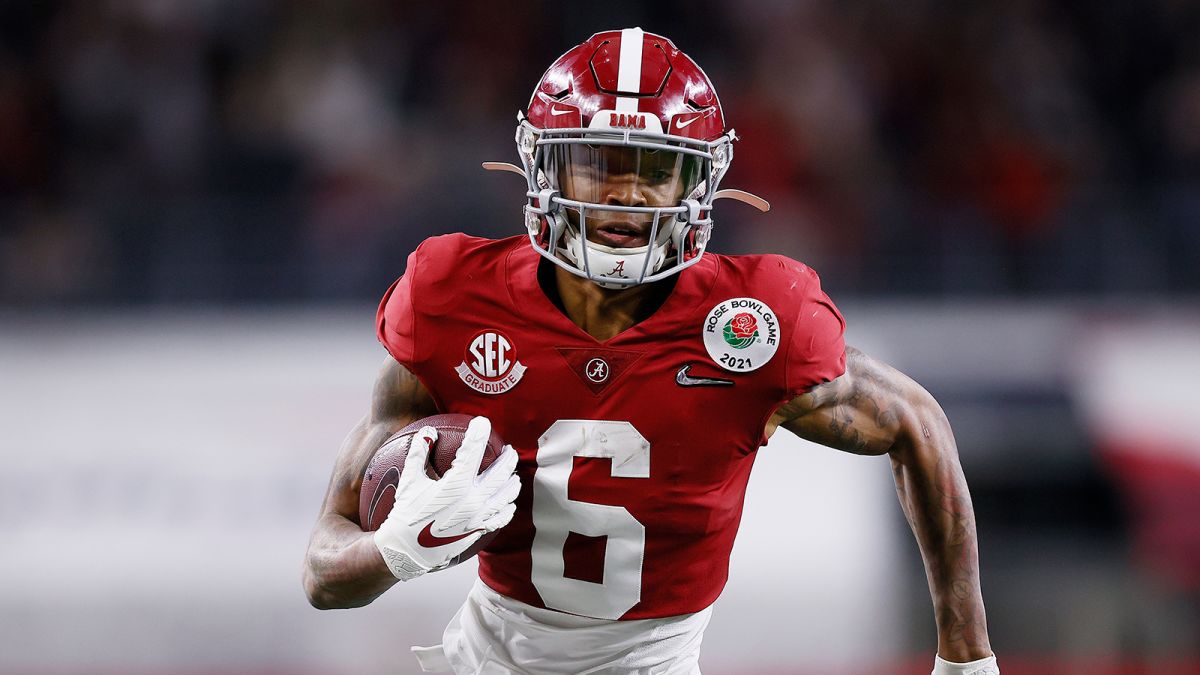 12. San Francisco 49ers – Rashawn Slater, OL, Northwestern
Slater didn't play in the 2020 college season, but his 2019 tape is solid. In fact, he did really well against Chase Young in the Northwestern v.s. Ohio State game. At about 6'3", he isn't the ideal size for a tackle, so he may have to slide inside in the NFL. Whatever the case, the Niners could use him. If LT Trent Williams departs in free agency, Slater could play there. If Williams stays, Slater could kick inside.
13. Los Angeles Chargers – Christian Darrisaw, OT, Virginia Tech
Darrisaw is the biggest riser in this class of tackles. He earned a PFF grade of 95.6 in 2020 (Run Block: 94.5, Pass Block: 90.8). On top of that he has the size (6'5", 314 lbs) and experience to be a starting-caliber left tackle in the NFL. He should be a top target for the Chargers in the draft.
14. Minnesota Vikings – Kwity Paye, Edge, Michigan
At first, I had the Vikings taking an O-Lineman here. However, Mike Zimmer recently complained about how bad his defense was this past season. With the absences of Danielle Hunter and Michael Pierce, the Vikings D-Line has been especially poor. Getting those two back and adding Paye would remedy that next season.
15. New England Patriots – Kyle Pitts, TE, Florida
Pitts could go much higher, but teams don't take tight ends super high often. That allows him to fall to Bill Belichick, who already knows how to utilize tight ends from his time with Gronk. Pitts is very different from Gronk, so this isn't a great comparison, but the Pats need receiving weapons in any shape or form.
16. Arizona Cardinals – Jaycee Horn, CB, South Carolina
I wrote about this last time, but I can't say enough about Horn's tape v.s. Auburn. The lockdown potential he showed in that game is why he's my CB3. Penalties are his issue, but that's quite fixable. The Cardinals will most likely lose Patrick Peterson in free agency, so they're gonna have to find some new corners from somewhere.
17. Las Vegas Raiders – Jeremiah Owusu-Koramoah, LB, Notre Dame
Owusu-Koramoah is the do-it-all player of this class. He has the run-stopping skills of a linebacker (24.5 TFL in two seasons at ND), but the coverage skills of a safety. His size lies somewhere in between, as he's listed as 6'1", 215 lbs. Luckily for the Raiders, they need everything on defense.
18. Miami Dolphins – Jaylen Waddle, WR, Alabama
The cruel irony of this pick is that I've already given Miami a new QB, so Tua wouldn't be able to enjoy throwing to one of his college receivers. Before his injury, Waddle was trending towards being a top-10 pick, and after the NFL Combine, he should jump back up draft boards.
19. Washington Football Team – Mac Jones, QB, Alabama
Jones has had a season for the ages at 'Bama. His supporting cast has definitely helped him along, but he's still proven he's a very accurate passer. Even though I love Alex Smith, the WFT needs to find a young QB now. Smith mentored Patrick Mahomes, so now let him mentor Jones in Washington.
20. Chicago Bears – Rashod Bateman, WR, Minnesota
With Allen Robinson being a free agent, it's time to give the Bears a new receiver. Mitch Trubisky should get a one more year in Chicago, so they may as well give him a fair shot. Bateman has experience in the slot and outside. His versatility could really help the Bears.
21. Jacksonville Jaguars (from Los Angeles Rams) – Samuel Cosmi, OT, Texas
According to PFF, Cosmi was the third-best pass blocking OT in the NCAA in 2020 (his grade was 89.4). With Trevor Lawrence, there's no doubt the Jags will air it out on a regular basis.
22. Indianapolis Colts – Teven Jenkins, OT, Oklahoma State
Here we grab the Colts their heir to Anthony Castonzo. Jenkins is a prolific run-blocker (PFF run-blocking grade: 93.6) who can play right or left tackle. Indy is a run-first team with Jonathan Taylor, so this makes a lot of sense.
23. Cleveland Browns – Nick Bolton, LB, Missouri
Bolton is the best pure middle linebacker in this class. In 2020, he racked up 95 tackles, 8.0 TFL, and 5 pass deflections through 10 games. The Browns could use his physicality.
24. Tennessee Titans – Azeez Ojulari, Edge, Georgia
Ojulari was a huge riser in 2020. He finished off the season with 3.0 sacks, 3.0 TFL, and 2 FF in Georgia's bowl game against Cincinnati. His speed off the edge is what the Titans need.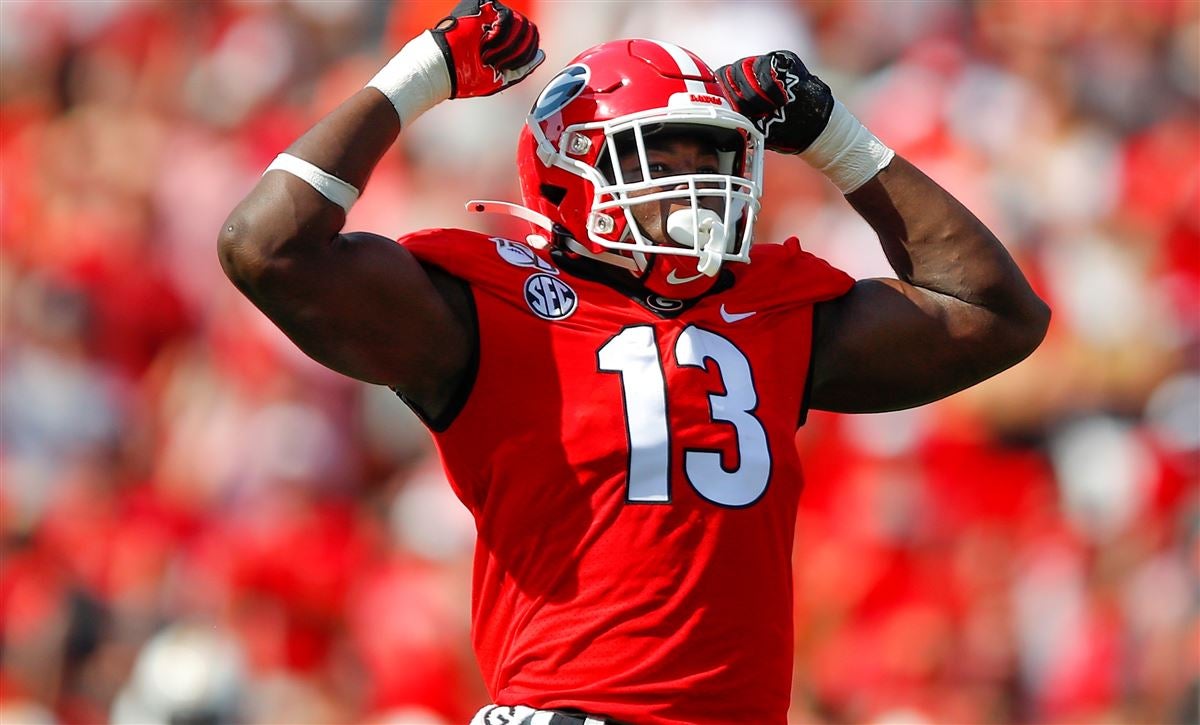 25. Tampa Bay Buccaneers – Joseph Ossai, Edge, Texas
Ossai transitioned to being a full-time edge rusher this season, but he still retained his run defending abilities. He finished with 15.5 TFL and 55 tackles, which is a lot for a pass rusher. Lavonte David and Shaquil Barrett are free agents, so if David leaves, Ossai could play linebacker, but if Barrett leaves, Ossai could play on the edge.
26. Baltimore Ravens – Jaelan Phillips, Edge, Miami
Phillips was a top recruit out of high school. He first played for UCLA, but he faced injury issues through the early portion of his career. Then, he made his way to Miami and broke out. He was second in the ACC in sacks and TFLs. The Ravens are unlikely to retain Matt Judon and Yannick Ngakoue, which will leave them in need of edge rushers.
27. New York Jets (from Seattle Seahawks) – Wyatt Davis, IOL, Ohio State
The Jets' O-Line has improved, but they're missing a piece inside. Through free agency or the draft, they should add a guard this offseason. Given Davis has protected Justin Fields at Ohio State, this pick makes sense.
28. Pittsburgh Steelers – Javonte Williams, RB, North Carolina
The Steelers need a run game. James Conner seemed like the answer for a while, but he was unimpressive this season and he's going to be a free agent. Drafting a running back in the first round gives the Steelers five or six years of control on that running back's contract. Williams had a dominant 2020 season, and he has less wear-and-tear than Najee Harris and Travis Etienne. Williams's mix of elusiveness and power should make him a candidate for being RB1.
29. New Orleans Saints – Zaven Collins, LB, Tulsa
After Jeremiah Owusu-Koramoah, Collins is the second-most versatile defender in this class. He's the best coverage LB in the Draft, as he picked off four passes and earned a 93.7 PFF Coverage grade this season. Owusu-Koramoah holds the advantage in run defense, but Collins holds his own in the backfield as well. The Saints could lose Alex Anzalone this offseason, so Collins would be a perfect replacement.
30. Buffalo Bills – Alijah Vera-Tucker, OL, USC
Vera-Tucker is similar to Rashawn Slater in that he played left tackle this season, but due to his size, he'll likely move inside. The difference is Vera-Tucker actually has experience inside. It's safe to say versatility is a strong suit of his. USC is a pass-first offense, just like Buffalo, so the first is there.
31. Green Bay Packers – Jalen Mayfield, OT, Michigan
Aaron Rodgers needs pass-catchers, but this is a deep class of receivers. The next priority for their offense should be protecting Aaron Rodgers. They have David Bakhtiari locked up, so obtaining their right tackle of the future should be their specific priority. Mayfield is raw, but he also has good size and plenty of room to improve. Learning from Rodgers and Bakhtiari would be a dream situation for him.
32. Kansas City Chiefs – Trey Smith, IOL, Tennessee
Smith is another guy who's raw, but he has possibly more potential than Mayfield. After being a five-star recruit, he's had an odd career at Tennessee where he's played multiple positions and missed time with injuries. However, at 6'6", 330 lbs, he has great size and versatility.