The Washington Football Team is off to a 4-7 start, which actually puts them in contention for an NFC East title. Their starting quarterback is Alex Smith, who returned after a gruesome leg injury that almost took his life. What's also notable is who isn't starting for them, Dwayne Haskins. Haskins was a highly-touted prospect out of Ohio State that was selected by Washington. In two years, he went from Heisman candidate to Alex Smith's benchwarmer. It's safe to say he's had a rocky beginning to his career. Why has it come to this? Allow me to give my best explanation.
The Washington Redskins (which was their team name at the time) selected Dwayne Haskins with the 15th overall pick in the 2019 NFL Draft. He came out of Ohio State as a star, as he threw for 50 passing touchdowns with a completion percentage of 70.0%. As a result of these numbers, he finished third in Heisman voting in 2018. His success hasn't translated to the NFL so far. Through 13 games, his completion percentage is 59.6% and his TD-INT ratio is 11-10. This season, he was benched after Week 4.
After watching some of Haskins' college and NFL tape, I deduced it isn't completely his fault. There are a mix of issues here, but I'll begin with the problems that are caused by Haskins himself.
For starters, Haskins isn't mobile at all. This was something everyone knew prior to the 2019 NFL Draft. His 40-yard dash time was 5.04 seconds at the 2019 NFL Combine. That's terrible, but again, this is information the Redskins had before drafting him. He's a pure pocket passer in a league that now favors mobile QBs.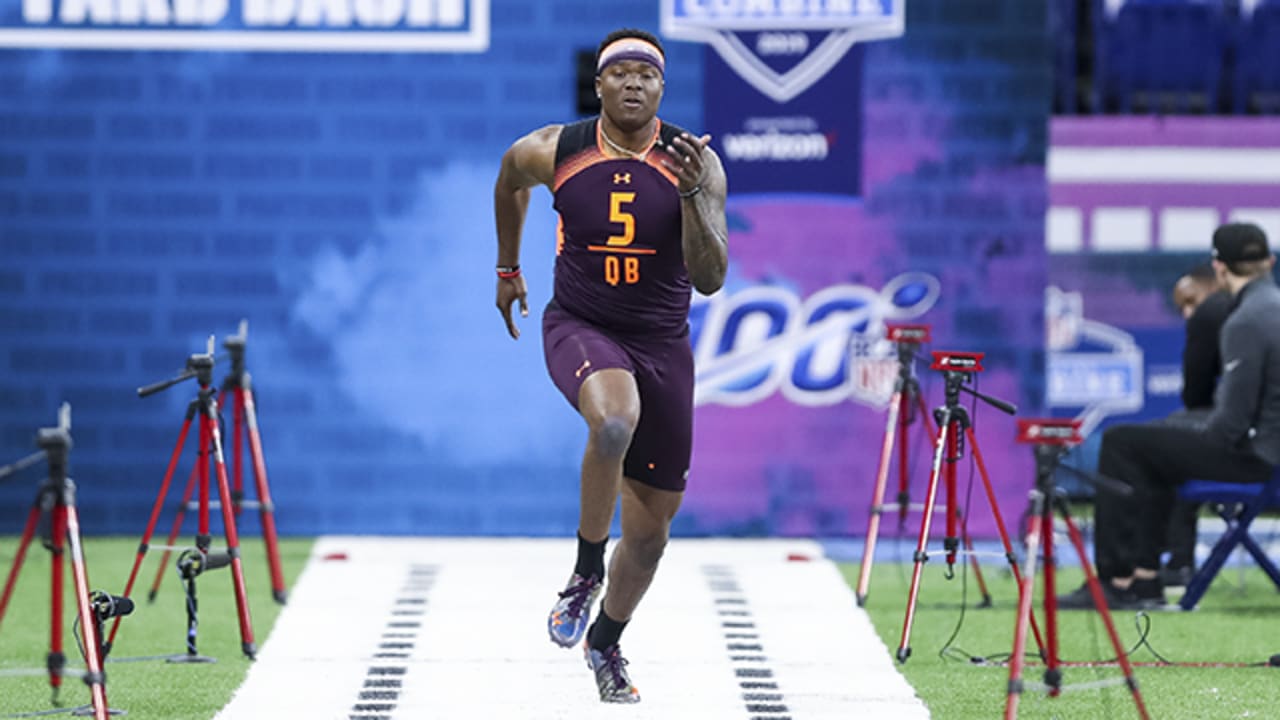 Second, Haskins is really bad against pressure. According to Pro Football Focus, Haskins threw 23-51 with 2 TD and 2 INT against pressure in 2019, good for a passer rating of 58.9. Not good. In fact, there is a notable shift in Haskins' mechanics when he's under pressure. Let's watch Haskins' tape against Washington.
Here, Haskins throws an absolute dime with a clean pocket. Facing a four-man rush, Haskins has plenty of time to find Terry McLaurin (who now plays with him in Washington) for a big gain. He drops back, pump fakes, and delivers a strike to McLaurin with perfect touch and mechanics. This is the ideal Dwayne Haskins against no pressure.
Here, we see a different story. The Washiongton linebacker flies up the middle and forces a bad throw by Haskins. Normally, this wouldn't really be a red flag, as quarterbacks are often forced to make worse throws than they normally would when they're pressured. However, watch the change in Haskins' footing. His feet are parallel, taking away a lot of the power and accuracy behind his pass. This actually happened a lot more times in this Washington game when the Huskies blitzed. What's worse is that the same mechanics error has cost him many times in the pros.
Here, the Giants pressure Haskins with just a four-man rush. This demonstrates both his inability to escape the pocket and his poor mechanics under fire. His feet are once again parallel, as he makes an inaccurate throw that was picked off by Jabrill Peppers and taken to the house. Despite the magnitude of his immobility and poor mechanics, there's still something bigger that Haskins is bad at, leadership.
Haskins hasn't done anything to convince the Washington locker room that he's the man. This all boils down to what happened in Week 4. Haskins actually played really well against a great Ravens defense. He went 32-45 with 314 passing yards and a rushing touchdown. The team still lost 31-17, though. According to 106.7 the Fan, Haskins bragged about his numbers after the game despite the loss. This obviously didn't sit well with everybody else in the locker room. As a result, HC Ron Rivera benched Haskins for Week 5. It's clear Haskins' attitude hasn't been conducive to success on the field.
Now we get to the part that isn't Haskins' fault, the rest of Washington's offense. Washington is well-known for their defensive prowess, but their offense mustered just about 17 points per game last season. Their offense has been slightly better this season, but not enough for them to be a winning team.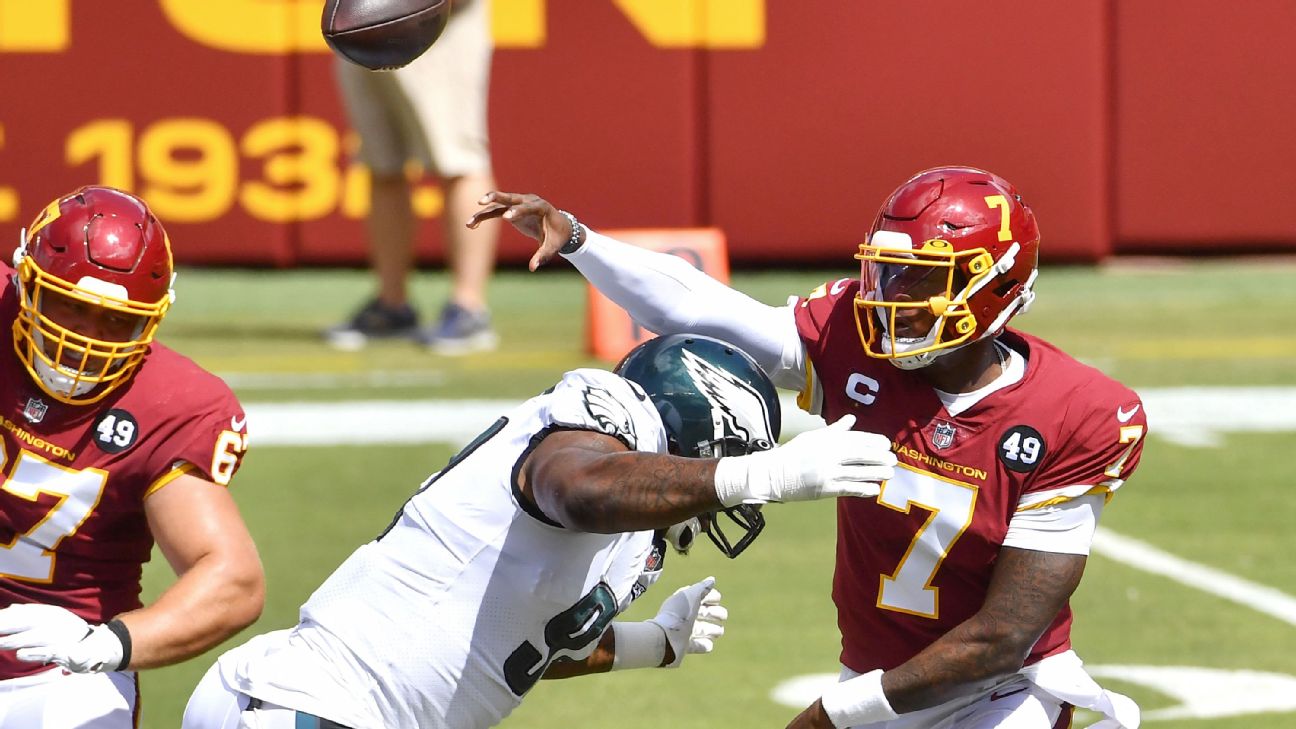 Washington's offensive line is among the worst in the league, with right guard Brandon Scherff being the only bright spot. They allowed the fifth-most sacks in 2019, and they've allowed the third-most sacks this season. On top of that, they lack playmakers. Terry McLaurin is really good, but he was a rookie most of the time Haskins had with him. McLaurin will be great, but Haskins never really got to experience that. So, Washington never surrounded Haskins with elite talent.
On the flip side, Haskins worked with a high-powered offense at Ohio State. He had an elite offensive line that kept him clean. Plus, he had a plethora of weapons in McLaurin (who, as I stated before, he also had in college), K.J. Hill, Parris Campbell, and J.K. Dobbins. Based on personnel, Haskins was set up to succeed at OSU, while the same can't be said for his current situation. This is why you can't completely fault him for his mediocre performances so far.
So, due to his immobility, poor mechanics, arrogant attitude, and subpar offensive situation, Dwayne Haskins looks like a bust. Washington is unable to fulfill his needs, and he's unable to fill Washington's needs, too. With a solid offensive line and some talented receivers, I think Haskins could actually be a really good QB. However, I doubt he'll ever get the chance to prove it, which makes me sad because I really liked him coming out of college. In fact, in my final 2019 Mock, I had him going to the Redskins. Hopefully Washington trades him to a team that brings out the best of his skillset, but for now, he'll sit and watch Alex Smith command his team. If Haskins can revive his career somewhere else, I'll give him all the credit in the world, but it doesn't look like he has a future in D.C.