After a five month delay, the NBA Draft is set for November 18th. This has been an odd draft cycle because we haven't seen most of these guys play in eight months due to COVID. So, this is gonna be a tough draft to make predictions on, but I'll do my best anyway. Here's my first NBA Mock Draft of 2020.
Featured image credits: Bleacher Report, PistonPowered
Minnesota Timberwolves – Anthony Edwards, SG, Georgia
The TWolves already have a nice guard-center tandem in D'Angelo Russell and Karl-Anthony Towns, so getting a wing player is their next priority. Edwards is easily the most talented prospect in this class, so, barring a trade, this should be the pick come draft night.
Golden State Warriors – James Wiseman, C, Memphis
For all of the stacked teams the Warriors have had over the past few years, they've never had an elite center to start with Stephen Curry and Klay Thompson. I'd really like to see how a talent like Wiseman would fit in Golden State. He's a natural rebounder and post-scorer, but he also has a lot of room to improve his jumper. That's something coach Steve Kerr would love to have.
Charlotte Hornets – LaMelo Ball, PG, USA
The Hornets need some buzz (little bit of a pun there), and the last of the Ball bros would generate just that. Devonte' Graham had a great season at point guard for the Hornets, but I'd expect him to play fine at shooting guard with Ball. With LaMelo, Charlotte would have a nice group of youngsters to develop.
Chicago Bulls – Killian Hayes, PG, International
Coby White played well last season, but some people question whether he is a true point guard or not. Hayes undoubtedly is a true PG, as he is an incredible passer. In a more guard-oriented NBA, Chicago would do well with White, Hayes, and Zach LaVine in the same lineup.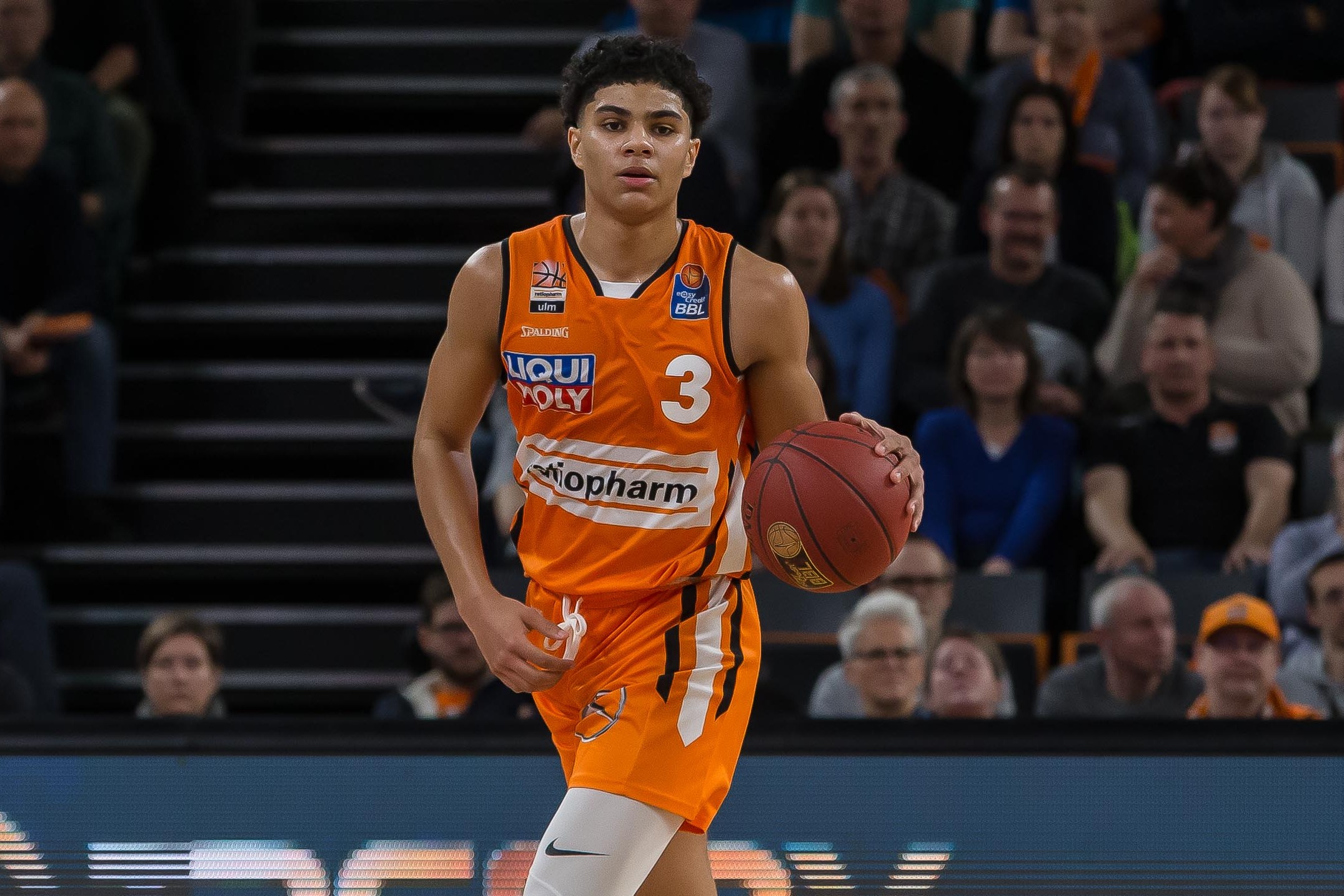 Cleveland Cavaliers – Deni Avdija, SF, International
The NBA's next international star is here. Avdija is a great ball handler for his size, so he could really play anything from point guard to power forward for the Cavs. The biggest hole in Cleveland is small forward, so he'd do well in that slot.
Atlanta Hawks – Obi Toppin, SF/PF, Dayton
If the Hawks land Toppin, they'll be my sleeper team for 2021. Trae Young would have four promising, young wing players in Kevin Huerter, De'Andre Hunter, Cam Reddish, and Toppin and then two solid bigs in John Collins and Clint Capela.
Detroit Pistons – Tyrese Haliburton, PG/SG, Iowa State
This Pistons team is absolutely dreadful. The best part of their 2019-20 season was the re-emergence of Derrick Rose, but he'll likely be gone after 2021. So, I'll give them their point guard of the future. Hopefully Haliburton would learn a lot from Rose in red, white, and blue.
New York Knicks – Devin Vassell, SG, Florida State
Vassell isn't a pure scorer, but he has good size and he gets the job done on both ends of the floor. The Knicks need pretty much everything, but I think a wing player to complement R.J. Barrett would certainly help.
Washington Wizards – Onyeka Okongwu, PF/C, USC
Some have called Okongwu the best big man in this class. I'd say that's an exaggeration, but he's still pretty filthy. As a freshman, he put up 16.2 points and 8.6 rebounds per game. However, he doesn't have a three-point jumper and he's only 6'9". I think he'll have to expand his range to be successful in the NBA, but the talent is there.
Phoenix Suns – Cole Anthony, PG, North Carolina
Anthony is one of my favorite prospects in this draft class. He can score from everywhere and he's a gritty defender. Phoenix has a promising team, but point guard is an obvious hole. Expect them to take advantage of this deep PG class.
San Antonio Spurs – Isaac Okoro, SG, Auburn
Making SEC All-Defense freshman year is not an easy feat, but that's what Okoro did this past season. The Spurs have a deep lineup, and this move would just make it deeper.
Sacramento Kings – Aaron Nesmith, SG/SF, Vanderbilt
Nesmith is an elite shooter and a sleeper of this class. He shot 52.2% from three-point range and averaged 23.0 points per game in the 2019-20 season. However, he wasn't able to finish last season due to a foot injury, but the numbers don't lie. This guy can score in a way that the Kings could use.
New Orleans Pelicans – Tyrese Maxey, PG/SG, Kentucky
The Pelicans roster is chock-full of young talent, so they can do whatever they want with this pick. So, the most talented prospect on the board is Maxey. He made the All-SEC Second Team in 2019-20 and has loads of potential at 19 years old. (Although he'll be 20 on draft day)
Boston Celtics (from Memphis Grizzlies) – Daniel Oturu, C, Minnesota
Not everyone has placed Oturu this high, but his statline (20.1-11.3 last season) and ability to stretch the floor (37.0% three-point shooter) impress me. The Celtics need big men and shooting, so why not combine the two with this pick?
Orlando Magic – Kira Lewis Jr., PG, Alabama
Here's another player who's stats just jumped off the page. At 'Bama, he averaged 18.5 points, 5.2 assists, and 4.8 rebounds per game during his sophomore season (2019-20). Markelle Fultz had a good season at point guard, but he certainly isn't irreplaceable.
Portland Trailblazers – Precious Achiuwa, PF, Memphis
After James Wiseman left Memphis, many thought they had no star power remaining. They were wrong, as Achiuwa averaged a double-double and won AAC Player of the Year. Shooting 32.5% from three, he's a picture-perfect stretch four, which is precisely what Portland needs.
Minnesota Timberwolves (from Brooklyn Nets) – Jalen Smith, PF, Maryland
Smith is a little bit bigger than Precious Achiuwa, but he plays a similar role. He gets boards, but he can also stretch the floor. Putting him and KAT in the same lineup would be unfair.
Dallas Mavericks – Theo Maledon, PG/SG, International
His youth and shooting ability are intriguing. It takes a ton of skill to be able to play in the EuroLeague as a teenager. The Mavs have shown an affinity for international players, so this move just makes sense.
Brooklyn Nets (from Philadelphia 76ers) – Cassius Stanley, SG, Duke
Stanley has been making highlight reel dunks since his freshman year of high school. His athleticism is off the charts. The Nets don't have any clear needs, so let Stanley learn from KD and Kyrie in Brooklyn.
Miami Heat – R.J. Hampton, PG, USA
Hampton was a top recruit, but he famously chose to play in New Zealand over the NCAA. His shot is a work in progress, but his speed and ability to get to the rack make him a first round talent. In this deep class of point guards, I expect the Heat to find the heir to Goran Dragić.
Philadelphia 76ers (from Oklahoma City Thunder) – Saddiq Bey, SF, Villanova
OKC has a guard-heavy team with Steven Adams at center. They've shown they like stretch forwards (Danilo Gallinari), so let's give them another. At 6'8", Bey is a stellar shooter who would really help the Thunder.
Denver Nuggets (from Houston Rockets) – Josh Green, SG, Arizona
The Nuggets are one of the deepest teams in the league. Green is young and has a ton of athleticism, so I'm sure he'd develop nicely in Denver.
Utah Jazz – Jaden McDaniels, PF, Washington
McDaniels was recruited as a big man, but he developed into a forward. The Jazz are quite thin at power forward, so this pick would help fix that.
Milwaukee Bucks (from Indiana Pacers) – Nico Mannion, PG, Arizona
Mannion is one of the most hyped prospects in this class. He's a solid scorer and distributor. Eric Bledsoe has recently been shaky for the Bucks, so Mannion could be a nice change of pace.
Oklahoma City Thunder (from Denver Nuggets) – Jahmius Ramsey, PG/SG, Texas Tech
Ramsey is the latest NBA-caliber guard from Texas Tech. TTU always produces solid defenders, and Ramsey can score on top of that (15.0 points per game).
Boston Celtics – Vernon Carey, PF/C, Duke
Another big man heads to Boston. Carey was Duke's best player last season, as he averaged 17.8 points per game and 8.8 rebounds per game.
New York Knicks (from Los Angeles Clippers) – Devon Dotson, PG, Kansas
Dotson led Kansas in points and steals in the 2019-20 season. Might as well get Frank Ntilikina and Dennis Smith Jr. some competition at point guard.
Los Angeles Lakers – Jordan Nwora, SF, Louisville
Nwora made All-ACC twice in his career, as he put up 17+ PPG and 7+ RPG in those two seasons. LeBron could use a scorer of his level.
Toronto Raptors – Isaiah Stewart, PF, Washington
Stewart was the #3 high school recruit in the class of 2019, but his draft stock hasn't reflected this because he's a 6'9" big man who hasn't shown the ability to stretch the floor. Still, he can score and rebound inside with the best of them.
Boston Celtics (from Milwaukee Bucks) – Immanuel Quickley, PG/SG, Kentucky
The Celtics have yet another first round pick. I've already given them two bigs, so we'll finish off with a guard. Quickley is a great shooter, which is what the Celts need after a big man.
Once the Election Day craziness is over, all eyes will be on the NBA Draft (which is the far superior event). Stay safe!!
-Sam