Big things here on the American Sports Blog; we have a new contributor! In this article, our guy Logan Kaufman gives you ten players that could be traded at the MLB's trade deadline, which is tomorrow at 4 p.m. ET.
Featured image creds: Yanks Go Yard

10. Lance Lynn – Starting Pitcher, Texas Rangers
Lance Lynn is a starting pitcher, as well as the ace for the Texas Rangers. 33-year-old Lynn has the third-best era in the MLB, while at the same time being undefeated. As of now, Lance Lynn is on a three-year, $30 million contract that would expire in 2022. With such great stats and a low salary, some may wonder why the Rangers are looking to trade Lance Lynn. The answer is simple. The Rangers are sitting at a sad 12-19 record and have been listed as one of the obvious sellers come the trade deadline. This means that the Rangers are going to entertain offers for all of their players, especially the best ones. The Rangers will likely look for young prospects with lots of potential in return for Lance Lynn. Although Lynn has ace material, his age is a big negative, considering that the Rangers are entering a rebuilding period. With only one year left on Lynn's contract, he likely will be much higher paid on his next contract based on his performance with the Rangers. All in all, Lance Lynn is a great pitcher as well as a good veteran presence on the team, but for the rebuilding Rangers, he's the perfect trade material.
Image from The Dallas Morning News
9. Mitch Moreland – First Baseman, Boston Red Sox
Mitch Moreland is the outstanding first baseman who is playing on the slumping Red Sox this season. Because the Red Sox are playing so terribly and Mitch Moreland is off to the hottest start of his career, it makes him very good trade bait. Moreland is hitting .360 with 7 home runs while only having 50 at-bats. The Red Sox have been one of the best teams in Major League Baseball over the past few seasons but it appears that they are now heading into a rebuilding stage. Because of this, they are most certainly sellers at this trade deadline, meaning that they will try to get young talent in return for some of their best players such as Mitch Moreland. Another upside for teams looking to get Moreland is that he is only on a 2.5 million dollar salary. The most likely scenario is that the Red Sox will trade Mitch Moreland to a playoff contender and receive young prospects in return.
8. Robbie Ray – Starting Pitcher, Arizona Diamondbacks
Robbie Ray is a starting pitcher for the division losing Diamondbacks in the NL West. Robbie Ray is having a terrible season as he is struggling consistently to get his ERA under 7 and has only won 1 of 5 games. Ray is on a one-year 9.4 million-dollar contract and based on his performance, he should not be getting paid that much. Since the Diamondbacks are going to be sellers at this deadline, they will work very hard to try to get something in return for Robbie Ray. Seeing that Ray has extremely under-performed this season, the Diamondbacks most likely will not sign him to another deal next season when his contract expires. Due to Ray's lackluster performance thus far, he will not have much worth and the Diamondbacks will likely have to settle for some lower-level prospects in return for him.
7. Mike Clevinger – Starting Pitcher, Cleveland Indians
Mike Clevinger is the number four pitcher in the lineup for the successful Cleveland Indians. The Cleveland Indians are leading their division as they look to be serious contenders in the playoffs this season. Clevinger is having a pretty good season with a 3.18 ERA through 22 innings pitched. Although Clevinger has shown his worth to the Indians, the Indians will likely look to trade him in a package with some of their young prospects for some offensive talent that will help them get far into the playoffs. Clevinger is also on a one-year 4.1 million dollar deal, meaning that he will likely demand more money next season because of his good performance this season. In conclusion, Clevinger has lots of potential to be great, just not on the Indians.
Image from Factory of Sadness
6. Trevor Bauer- Starting Pitcher, Cincinnati Reds
Trevor Bauer is the Cincinnati Reds second-hand man as far as pitching goes. Bauer has a strong, 1.65 ERA and has won three out of his five games pitched this year. Despite Bauer being one of the top pitchers in the National League, the Cincinnati Reds are one of the worst teams in the National League and are far out of the playoff race. Because of this, the Cincinnati Reds will likely try to trade Bauer for younger prospects. Another large Factor is that Trevor Bauer has a very large salary, making over 17 million dollars a year. The only scenario in which the Reds would keep Bauer is if they believe that they can truly make the playoffs. With that being said, the Cincinnati Reds will most likely trade Trevor Bauer for younger talent as they continue through their rebuilding stage.
5. J.T. Realmuto – Catcher, Philadelphia Phillies
For starters, you may be surprised to see J.T. Realmuto on this list of top players who may be on the move before the trade deadline. J.T. Realmuto is the catcher for the Philadelphia Phillies and arguably the best catcher in Major League Baseball. Realmuto has been very consistent over the past few seasons and has done very well to carry that success into this season. Realmuto is hitting just under .300 and is slugging as he has hit almost 10 home runs. With these significant stats being laid out, you may still be wondering why the Phillies would even consider trading J.T. Realmuto. The answer lies in his contract. J.T. Realmuto is currently under a one-year, 10 million dollar contract. For his talent, 10 million dollars may be considered underpaid. The Phillies, who are out of playoff contention right now, are likely to be sellers at this deadline. The Phillies also recognize Realmuto's talent and what they can get in return for him. Since Realmuto will be a free agent next season the Phillies want to get what they can for him now, especially considering his value is very high. In short, it's unknown whether or not the Phillies will choose to trade Realmuto but if they do, you can expect him to go to a playoff contender.
4. Josh Bell – First Baseman, Pittsburgh Pirates
Josh Bell is the slumping first baseman for the Pittsburgh Pirates, who are the worst team in major league baseball. Josh Bell, who had an enormous 2019 season, is in a large dry spell so far this season, hitting only 2 home runs while laying low with a . 204 batting average. The Pittsburgh Pirates, who are only 9 – 20, are the most obvious sellers this trade deadline. With the Pirate's best player being Josh Bell, he is the most likely player to get traded. For a team like the Pirates, who are just entering a rebuild, they need to get rid of all their best players for young prospects who have a lot of potential. I think that that is exactly what you can expect at this trade deadline and what they do with Josh Bell will be a good indication of their intentions in the future.
Image from Sports Illustrated
3. George Springer- Outfielder, Houston Astros
George Springer is the starting center fielder for the Houston Astros. After coming off of an All-Star season, Springer is hitting under .200 and only has four home runs. The Astros are 18-14 so far this season and are certainly playoff contenders. With that in mind, the Astros can easily trade talented Springer, plus some prospects for pitching help that could help them get deeper into the playoffs. Early in the season the Astros lost Justin Verlander to an injury and have been unable to find pitching talent to replace him since then. Because of Springer's lackluster performance thus far he is not showing the Astros that he could help them return to the World Series for the second year in a row. To sum it up, George Springer has a lot of talent but is a very tradable player for the Astros this season based solely on how he has played so far.
2. Francisco Lindor – Shortstop, Cleveland Indians
Francisco Lindor is the star second baseman for the third-best team in the American League, the Cleveland Indians. Lindor has had a satisfactory season hitting .267 while battling to raise his .764 OPS. The four-time all-star is currently on a one-year 17.5 million-dollar contract. The Indians are likely recognizing that they cannot re-sign Lindor in the offseason, as he is going to request a lot more money than they can pay him. In recognizing this, the Indians have likely come to the conclusion that it would be best to trade Lindor for a player that will help them be World Series contenders once again. Overall, it can be said that Lindor may very well find himself on a different team after this trade deadline.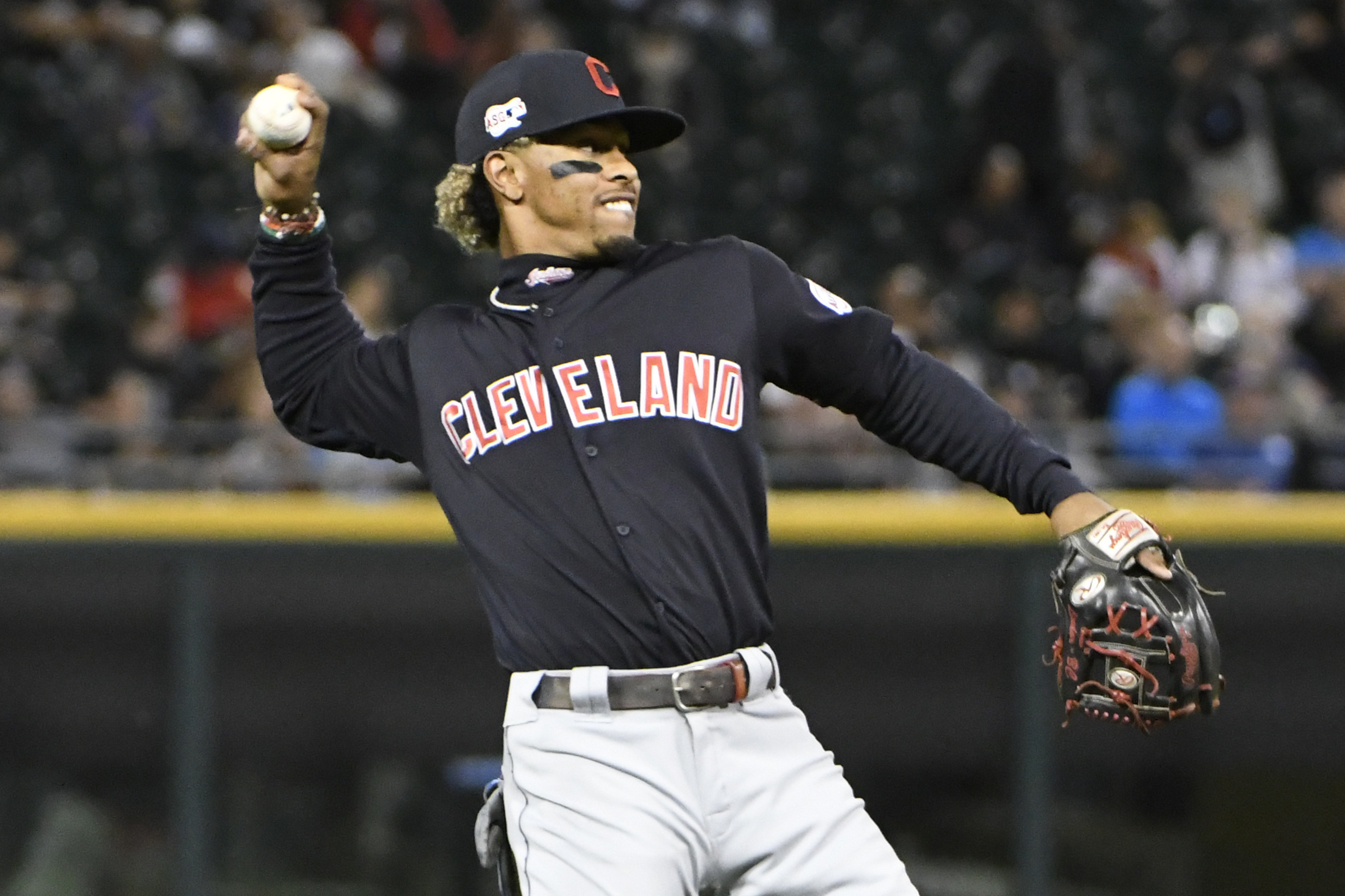 Image from Bleacher Report
J.D. Martinez – Designated Hitter, Boston Red Sox
The number one player who could be on the move this trade deadline is the Boston Red Sox designated hitter, J.D. Martinez. J.D. Martinez has had a horrible season that goes along very well with the Red Sox 10-22 record. J.D. Martinez, who has played very well over the past two seasons after leaving the Diamondbacks in 2017, is struggling this season, hitting only .205 with three home runs. The Red Sox are slated to pay Martinez 22 million dollars a year for the next two years. It has become clear this season that the Boston Red Sox are entering a rebuilding stage in which they will get rid of their top players. With that noted, the Red Sox will certainly try to get rid of All-Star, J.D. Martinez, as doing so would help to clear up a lot of cap space as well as to bring in lots of young, potentially great players.
Image from MassLive.com