Today, devastating news hit the world. The Big 10 and the Pac 12 cancelled their fall sports seasons. Spring football is a possibility, but can players really balance a full season and the draft process? Huge decisions lie ahead for the NCAA and the players involved, but the NFL seems to be on schedule. That hopefully means the NFL Draft will be on schedule, thus we can start to make mock drafts. So, without further adieu, let's get into the mock.
*Players opted out at the publishing of this piece: Gregory Rousseau, Micah Parsons, Rashod Bateman, Jaylen Twyman, Caleb Farley, Rondale Moore
*Leagues postponed: Big 10, Pac 12, MVC (FCS)
*Draft order from The Draft Network
Featured image credits: The Atlantic, FanSided, Bleacher Report
1. Jacksonville Jaguars – Trevor Lawrence, QB, Clemson
Trevor Lawrence was anointed 2021 #1 overall pick years ago, so this shouldn't be any surprise. In two seasons at Clemson, he has one loss, and that was to a stacked LSU team. He has the perfect size for an NFL QB and plenty of arm talent. If the Jags end up being the worst team in the league, not even "Minshew Mania" will stop them from taking Trevor.
2. Washington Redskins – Penei Sewell, OT, Oregon
A lot of people think Sewell could be the best offensive tackle prospect in years, and I'd have to agree. I haven't had the chance to watch him extensively, but I also haven't seen one criticism of his game. He could be as good as the Redskins' former LT, Trent Williams.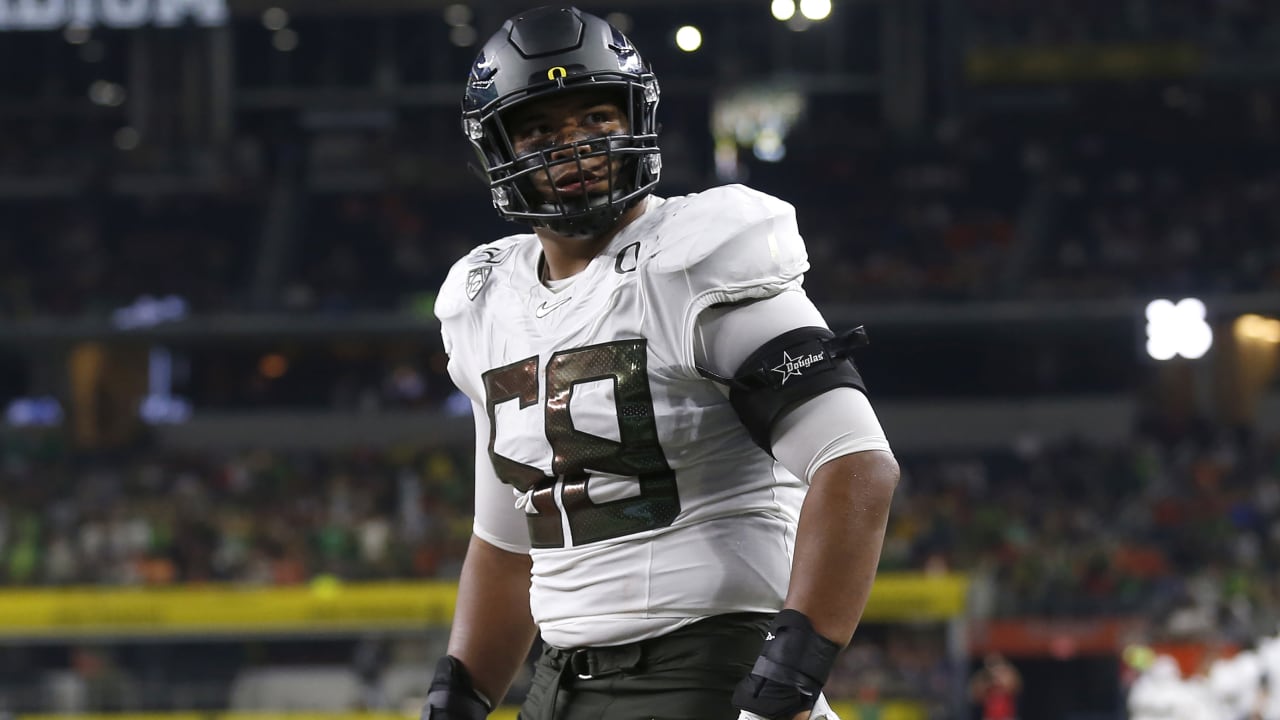 3. Cincinnati Bengals – Ja'Marr Chase, WR, LSU
Receiver may not be a need for the Bengals, but this is just too perfect. A.J. Green will probably be on the way out after the 2020 season, so add Chase to a WR stable that also includes Tyler Boyd and Tee Higgins. And did I mention that Joe Burrow would LOVE this move? This makes too much sense.
4. Carolina Panthers – Justin Fields, QB, Ohio State
Justin Fields is just barely second fiddle to Trevor Lawrence, even though Fields was actually ranked one place above Lawrence in the 2018 ESPN 300. Fields may not have the arm of Lawrence, but he's a much better threat on the ground, as he scored 10 TDs with his legs last season. Teddy Bridgewater doesn't feel like Carolina's long-term solution, so look for them to take a QB this draft.
5. New York Jets – Gregory Rousseau, Edge, Miami
You don't find too many guys who put up 15.5 sacks in their freshman season, but that's exactly what Rousseau did. He can dominate with any move from anywhere on the D-Line. That's exactly the type of player the Jets need.
6. Miami Dolphins – Micah Parsons, LB, Penn State
Parsons is the closest thing to Isaiah Simmons that you'll get in this draft class. He doesn't have nearly the pass coverage skills that Simmons does, but he's superb against the run and while rushing the passer. The Dolphins don't need LBs too bad, but Parsons was recruited as a defensive end. I'm sure Brian Flores would find ways to scheme Parsons into favorable situations.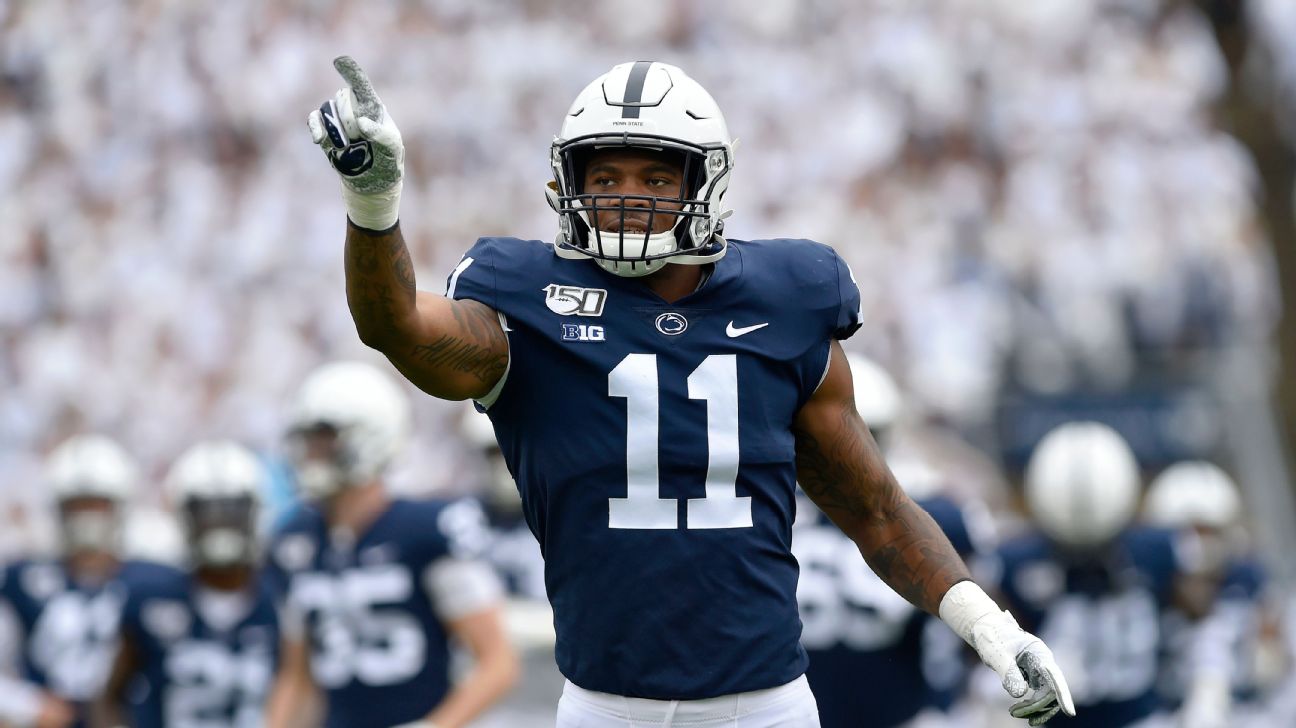 7. New York Giants – Dylan Moses, LB, Alabama
We haven't seen Moses in a year due to injury, but we can assume he's still the violent tackler he was in his sophomore season. The Giants have had a hole in the middle of their defense for quite some time. Moses would fill that with flying colors.
8. Las Vegas Raiders – Trey Lance, QB, North Dakota State
This guy's redshirt freshman season was absolutely unreal. He led North Dakota State to an FCS title with an undefeated record, threw for 28 TDs and no interceptions, and added 14 TDs on the run. He's truly the whole package, but the concern is that he's a bit raw since he plays FCS competition and only has one season under his belt. He may not be able to put another season on the books, but he still should go top 10. As for the Raiders side of things, I get the feeling Jon Gruden is ready to move on from Derek Carr.
9. Miami Dolphins (from Houston Texans) – DeVonta Smith, WR, Alabama
This might be a bit high for Smith, but Tua Tagovailoa would love this pick. Smith was Mr. Reliable for Tua at Alabama. Remember how Tua threw the game-winning touchdown pass in the title game versus Georgia? That was to DeVonta Smith. Smith put up 1,268 yards and 14 TDs last season with Jerry Jeudy and Henry Ruggs III stealing targets, so in a prominent role in the NFL, I think he could do as good, if not better.
10. Detroit Lions – Marvin Wilson, DT, Florida State
Wilson is this year's Derrick Brown. They're similar sizes and they both play a similar run-stuffing role. The Lions need help for Trey Flowers on the D-Line, so this would be a natural selection for them.
11. Jacksonville Jaguars (from Los Angeles Rams) – Pat Freiermuth, TE, Penn State
Trevor Lawrence has thrived with big pass-catchers at Clemson. Freiermuth is just that, as people have compared him to Gronk. He definitely has the size, power, and contested catch ability of Gronk, so I honestly like those comparisons. There's no doubt that Freiermuth would be Trevor's favorite targets in Jacksonville.
12. Los Angeles Chargers – Jackson Carman, OT, Clemson
Carman has been a rock solid blindside protector for Trevor Lawrence. He'd do the same for Justin Herbert and the tackle-needy Chargers. You can trust any big dude from Clemson on either side of the ball.
13. Denver Broncos – Patrick Surtain II, CB, Alabama
Surtain is the perfect mix of ball-hawk and willing tackler. His tackling is what really sets him apart. Most corners have good coverage skills, so tackling is an added bonus. The Broncos only high-level corner is A.J. Bouye, and his contract expires in 2022. Look for the Broncos to retool their secondary next offseason.
14. Atlanta Falcons – Shaun Wade, CB, Ohio State
Wade could've entered the draft this year and he probably would've gone in the early second. A season may have helped, but he still has plenty of tape for NFL scouts to dive into. The Falcons took CB A.J. Terrell with their first-rounder in 2020, but they still won't have any cornerback depth after him.
15. Arizona Cardinals – Creed Humphrey, IOL, Oklahoma
Humphrey could've been the top IOL in the 2020 draft class, but he chose to return to Oklahoma. He's as sturdy as they come, and he'd anchor the Cards' O-Line for years to come. That's exactly the type of stability Kyler Murray needs in Arizona.
16. Chicago Bears – Wyatt Davis, IOL, Ohio State
Davis is yet another big, powerful lineman at Ohio State. Like Humphrey, he boasts consistency as well. The Bears may not net a new QB in 2021, but they'll need to protect their future signal-caller.
17. Cleveland Browns – Rashod Bateman, WR, Minnesota
Bateman is one of my favorite prospects right now. As a sophomore, he put up 1,219 receiving yards on just 60 receptions, good for 20.3 yards/reception. He's a big catch machine with great hands who wins most of his contested catch opportunities. That sounds a lot like OBJ, who Bateman would join in Cleveland.
18. Tennessee Titans – Jaylen Twyman, DT, Pittsburgh
Twyman racked up 10.5 sacks in his sophomore season, good for second in the ACC. Rumor has it he's trained with Aaron Donald, which makes sense since Donald went to Pitt, too. If Twyman can be anything like AD, you better believe Tennessee is gonna wanna buy in.
19. Minnesota Vikings – Christian Barmore, DT, Alabama
From Jonathan Allen, to Da'Ron Payne, to Quinnen Williams, Alabama always has elite D-Linemen. Barmore seems to be next in that lineage, but right now we're mostly betting on Alabama's championship pedigree and his raw traits. A full season of tape would certainly help, and that's possible if the SEC somehow keeps a fall season. Assuming Barmore checks out like we think he will, he'd really help that Vikes D-Line.
20. Buffalo Bills – Caleb Farley, CB, Virginia Tech
At 6'2", 197 lbs, Farley has ideal size and length for a cornerback in today's game. He opted out of the 2020 season, so he's clearly confident with what he did in his two seasons at Virginia Tech, and with good reason. He had 4 INT and 12 PD for the Hokies in 2019. If Josh Norman departs after his one-year deal is up, Tre'Davious White will need a running mate in the Bills' secondary.
21. Pittsburgh Steelers – Alex Leatherwood, OT, Alabama
The Steelers' O-Line has been one of the best in the league for years, but they're starting to age. Plus, their tackles, Matt Feiler and Alejandro Villaneuva, are in the last year of their contracts. I doubt they'll re-sign both, so Leatherwood would be a great addition for Pittsburgh.
22. New York Jets (from Seattle Seahawks) – Jaylen Waddle, WR, Alabama
Wanna know what the Jets need? Some speed. That's just what Waddle brings to the table. He hasn't gotten a lot of volume at 'Bama because they've had so many elite receivers, but he still has managed 18.1 yards/reception in his two seasons. He also brings immense value as a returner. He had 24.4 yards/punt return in 2019, so if the Jets get nothing else from this move, at least they get a special teams gem.
23. Philadelphia Eagles – Jevon Holland, S, Oregon
Jevon Holland has done it all for the Ducks. In 2019, he intercepted 4 passes to go along with 66 tackles and 4.5 TFL. Plus, he had 5 INT in his freshman season. That's precisely what the Eagles need; a versatile, ball-hawk free safety.
24. New England Patriots – Tyler Shelvin, DT, LSU
Like Christian Barmore, a lot of Shelvin's buzz comes from his physical traits. He's listed at 6'3", 362 lbs and he has loads of potential.The Patriots need to remodel their front seven, and that should start with a big dude like Shelvin who can clog up the middle.
25. Indianapolis Colts – Paulson Adebo, CB, Stanford
In two seasons, Adebo put up 8 INT and 27 PD, ball-hawk type numbers if I've ever seen them. He could've entered the 2020 Draft, but I think an extra season will benefit him. That is, if we have a season. The Colts have decent depth at corner, but no one will lockdown star receivers every game. Adebo could be that guy.
26. Green Bay Packers – Rondale Moore, WR, Purdue
People forget just how amazing Moore was in his freshman season because he was injured in 2019. In 2018, he had 114 receptions for 1,258 receiving yards and 12 TDs. On top of that he ran the ball 21 times for 213 yards and 2 TDs. The Packers have been reluctant to take receivers with early picks, but Moore is just too good of a playmaker for them to pass on him here.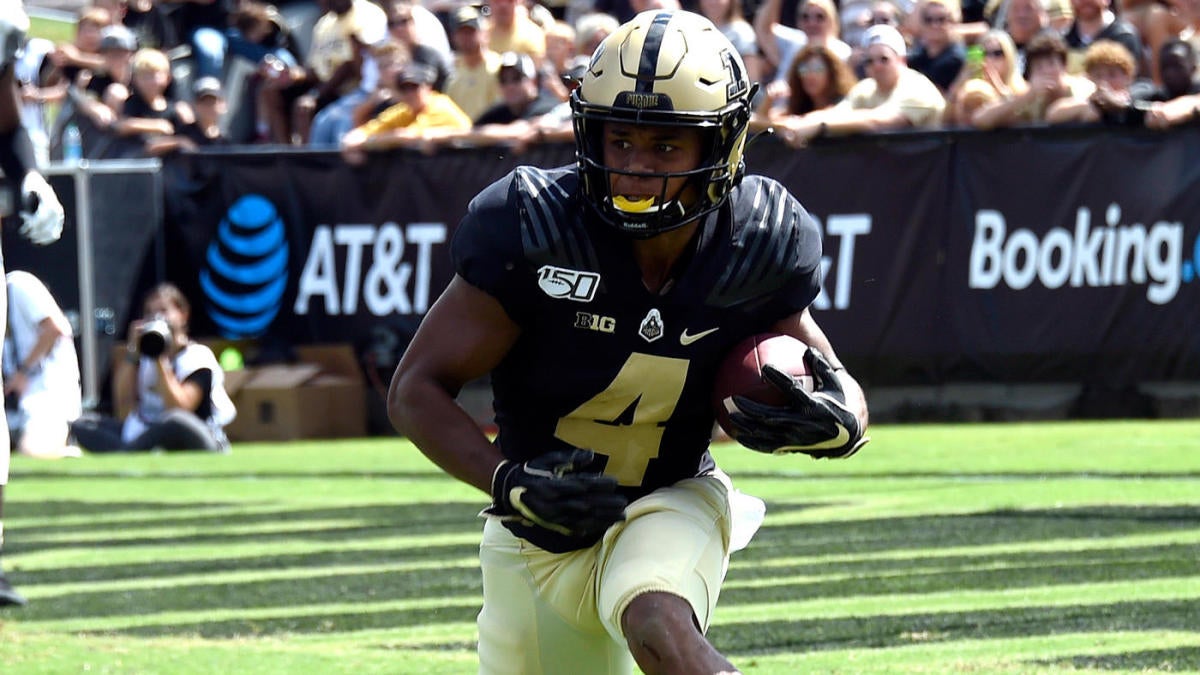 27. Dallas Cowboys – Hamsah Nasirildeen, S, Florida State
Who needs Jamal Adams when you can draft this guy? At 6'4", 215 lbs, he's a hard-hitter who would take the spot of HaHa Clinton-Dix on the Cowboys D. The Boys could go with a corner like Tyson Campbell here, but I think Nasirildeen would fit in Dallas.
28. Tampa Bay Buccaneers – Travis Etienne, RB, Clemson
In three years at Clemson, Etienne has averaged 7.8 yards/carry, while racking up 4,605 total yards and 62 total TDs. With that resumé, he could've been the first RB taken in the 2020 Draft, but since he stayed, he'll definitely be the first RB taken in the 2021 Draft. The Bucs, who want to compete during TB12's time in Tampa, boost their running corps here.
29. San Francisco 49ers – Trey Smith, IOL, Tennessee
The Niners are strong at tackle with Trent Williams and Mike McGlinchey, but to maintain the success they've had running the ball, they have to beef up their interior O-Line. A former 5-star recruit, Smith has the power to be a solid run protector at the next level. After Tom Compton's deal is up I could see Smith stepping right in at right guard.
30. Baltimore Ravens – Quincy Roche, Edge, Miami
With elite speed, Roche dominated at Temple, with 26.0 sacks and 39.5 TFL in three years. Since Gregory Rousseau opted out of the 2020 season, Roche is The U's top dog on the edge. When Rousseau was top dog, he put up 15.5 sacks, so expect a monster year from Roche.
31. New Orleans Saints – Kyle Pitts, TE, Florida
The Saints don't really have a clear need on their team. Even if Drew Brees retires, they'll still have Jameis Winston and Taysom Hill. So, since Jared Cook is in the final year of his contract, Pitts would be a nice, cheap replacement. At 6'6", Pitts runs like a receiver and should have a monster year as Kyle Trask's main option at Florida.
32. Kansas City Chiefs – Brevin Jordan, TE, Miami
With Patrick Mahomes' new mega deal, the Chiefs are going to have to start cutting costs. They have Travis Kelce for two more seasons, but they likely won't have enough money to re-sign him in 2022. So, let Brevin Jordan play a season behind Kelce and then unleash him in full. This may not be ideal, but it's the new reality for KC.
Hope you enjoyed! Stay safe!
-Sam